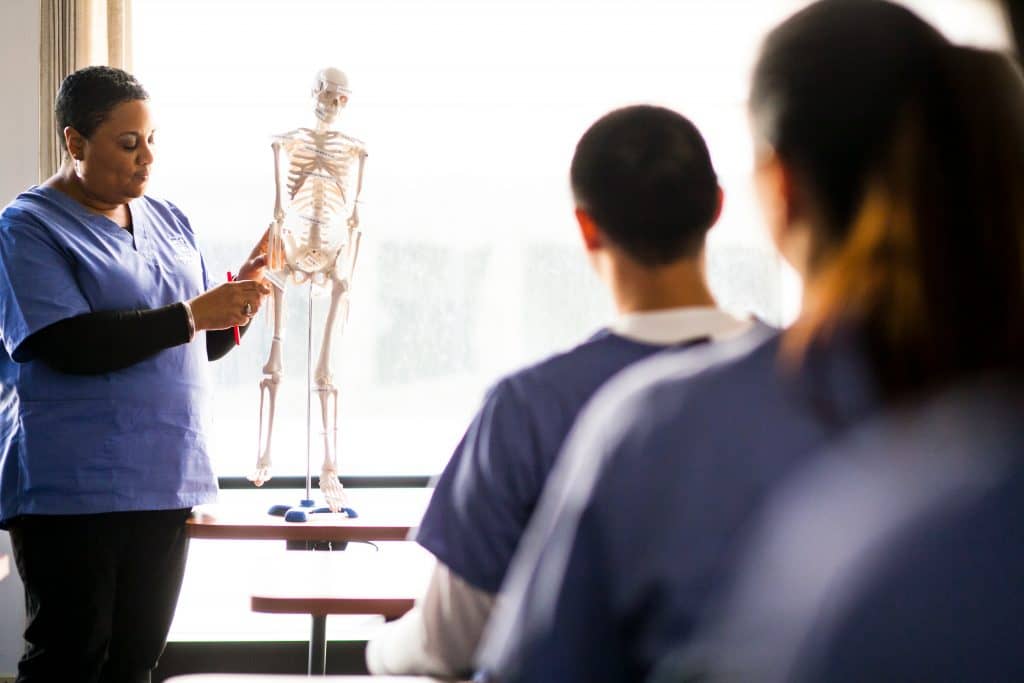 Once you've decided to train to become a medical assistant, the next step is to find a medical assistant training school that's going to prepare you for your new healthcare career.
A quick online search for medical assistant training schools in your area should bring up a number of possible options, from brick and mortar schools to those schools offering online programs.
However, all medical assistant training schools aren't created the same. So what should you look for when choosing the right school for you? Here are some quick pointers to assist you in selecting a medical assistant training school that's going give your healthcare career a solid foundation on which to grow.
Accreditation
When you graduate, you don't want employers doubting the quality of your medical assistant training. Confirm each school on your short list is accredited by a reputable accrediting agency as this proves the schools in question meets or exceeds minimum quality standards. Attending an accredited school ensures employers will respect your education, and that you're qualified to take on the demands of the job for which you've applied.
Tuition
Are the schools you're considering going to provide the best return on your financial investment? Do tuition costs seem pricey, or too good to be true?  Will you be able to comfortably pay back any loans? Additionally, find out if the schools offer grants and funding through programs such as Free Application for Federal Student Aid (FAFSA), the Workforce Innovation and Opportunity Act (WIOA), or, if you're a veteran, the GI Bill.
Career-Focused Training
For each school, check if the medical assisting program offers comprehensive preparation for the important certifications needed for working in healthcare as a medical assistant, such as The National Certified Medical Assistant (NCMA), which is offered through the National Center for Competency Testing (NCTT). More comprehensive programs also provide training and preparation for phlebotomy and EKG certifications, for the more well-rounded medical assistant.
Hands-On-Experience
Look out for schools that provide  medical assisting externships at well-known and respected medical facilities in areas close to where you live. It's on your externship, at a hospital, lab, or a doctor's office, where you'll put into practice your school training, get real-world experience, learn new working skills, and begin to foster contacts that could possibly assist you in obtaining your first healthcare job.
Instructors
Your medical assisting instructor will probably be the most important person to you on campus. Your instructor will be your guide and mentor, helping shape you into the skilled medical assistant you want to be. A good instructor will not only teach from a textbook, but they'll also teach using their own healthcare experiences to illustrate lesson being taught in class. Before you commit to a medical assisting school, ensure you're given the opportunity to meet your future instructor to discuss their background, their teaching style, and their pledge to ensuring their students' success.
Make it a point of finding out the school's usual class size. Ideally, you'll want to be part of a class where personalized attention is the norm rather than the exception to allay the fear of being lost in the shuffle, or left behind in your studies, in a larger class.
Program Length
You don't need an Associate Degree to become a medical assistant. Schools offering lengthy programs (where tuition is in the $25-30,000 range) leading to an Associate Degree aren't being completely truthful. A solid medical assistant program that employers are looking for is usually less than one-year long and takes 700-900 hours to complete. This is the recommended length of training by accrediting agencies recognized by the U.S. Department of Education.
Support
Aside from your medical assisting instructor,  you'll also want to make sure there are talent coaches and counselors on campus that will also have a vested interest in your success. A good school will have a career counselor, who will be able to assist you with your job search, interviewing, and resume writing. Additionally, you'll want to know that you'll also have access to a school counselor, who will be able to help you with any personal issues that may arise during your training.
School Mission
While you're reviewing the school's website, don't skip over their mission statement. Does it sound like the school is only out to make money through enrolling as many students as possible? Or does the school's opinion of what they do, and why they're doing it, resonate with you on a personal level? While a school mission statement may not be a major selling point for you, at least take a moment to ask yourself if you'd be happier and more comfortable studying at a school that shares some of your own world views about education and healthcare.
Graduate Success
A good school will be transparent about the success of their graduates in finding healthcare jobs. For instance, California's Bureau for Private Post Secondary Education requires schools publish a "Fact Sheet", a document that reports student outcomes such as graduation rates, job placement rates, and salary levels for graduates of each program. You can usually find this information posted on the school's disclosures web page. Additionally, look for student success stories that provide anecdotal evidence that jobs after graduation are a reality.
In Conclusion…
Choosing to go back to school is a major decision in your life,  and you'll want to make sure the school of your choice is going to fully partner with you from the first day of class all the way to your first day at your new medical assisting job. This is no time to be making rushed decisions. Your education and your future career are too important. So while it may take time and effort to thoroughly research each medical assistant training school on your short list, you'll soon learn the results will be worth it.
---
BAMA is proud to partner with Walgreens to provide students with a 240-hour, on-the-job
clinical pharmacy technician externship at one of the largest drugstore chains in the US.