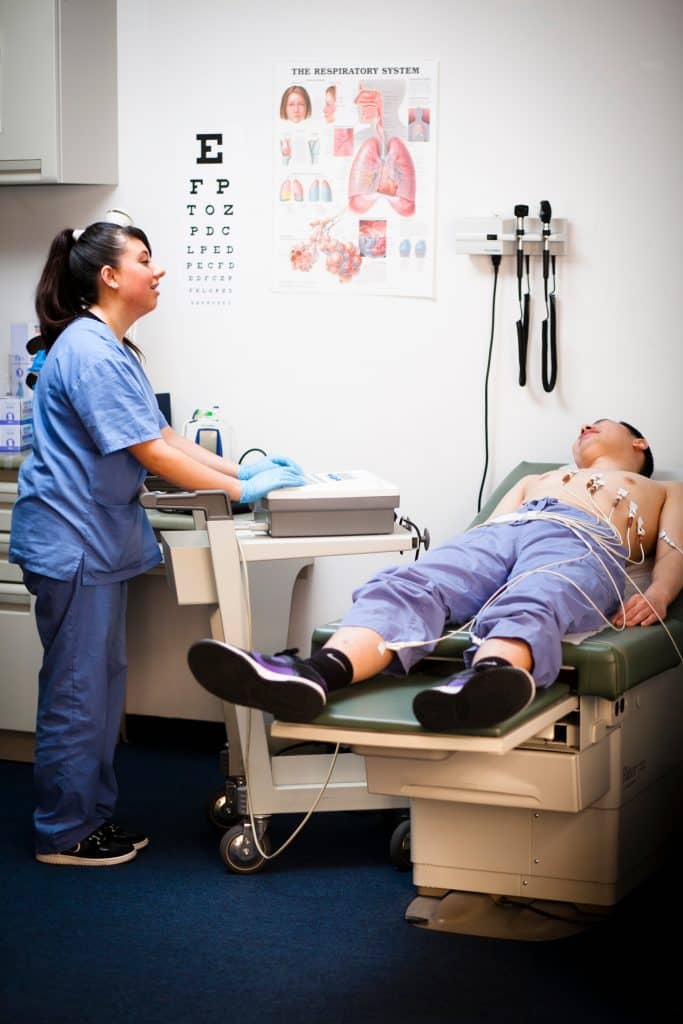 Do you want to become a nurse? Have you thought about medical assistant training school as a route to achieving that career goal?
Much like community college is an inexpensive and easier way to start a 4-year degree, healthcare students in the know are discovering that enrolling in a medical assistant training school presents the opportunity of working towards becoming a nurse in a realistic and affordable way.
Introducing the Medical Assistant…
The medical assistant, or MA, is the face of today's healthcare team.
The last time you visited a doctor's office, do you remember the person who greeted you before you met with the doctor? Remember the person in scrubs who prepared you for your visit with the doctor, took your vital statistics, and asked about your medical history?
This person was most likely the medical assistant.
Medical assistants work in facilities with a physician present, and are responsible for preparing patients for their visit with the doctor. The medical assistant also alleviates the duties of the doctor by helping with clinical and administrative tasks such as taking patient medical history, collecting samples, and recording vital statistics such as blood pressure and weight. In some cases, the medical assistant also performs blood draws and EKGs.
Career Pathways After Medical Assistant Training School
As far as career pathways for the medical assistant are concerned, there's definitely potential for job mobility.
A medical assistant can apply for similar jobs with different titles, like working in acute care settings (such as at a hospital), under the titles of hospital assistant or medical evaluation assistant.
Additionally, experience gained as a medical assistant can lead directly to the possibility of training to become a respiratory therapy assistant, physical therapy assistant, surgical technician, or occupational therapy assistant.
In fact, with more training and education, a medical assistant can realistically work their way up the career ladder to becoming a registered nurse.
I Want to Be a Nurse!
If it's your ambition to be a nurse, there may be a better way for you to reach your goal than following the traditional route of enrolling in nursing school.
Nursing schools are highly competitive and costly, and nursing students train for years before they graduate.
Some nurses also experience a "catch-22" in their hiring, in that employers expect candidates applying for jobs to have nursing experience, but, of course, the only way for the nurse to get that experience is through them having a nursing job.
However, nowadays, similar working experience can be gained working as a medical assistant.
As hospitals and HMOs have cut expenses, the role of the nurse has dramatically changed. While in the past there may have been a nurse in every medical room, with a high ratio of nurses to patients — today one nurse may oversee a dozen or more medical assistants.
That's to say, the position of the medical assistant has been expanded and elevated over the years.
Simply, medical assisting offers an alternative, and perhaps more achievable, route (you're gaining medical experience and are getting paid) to becoming a nurse.
In Conclusion…
Ultimately, you may be happy working as a medical assistant (which is a great and rewarding healthcare career in its own right), but, at the same time, it's good to know that starting your healthcare career< as a medical assistant has the potential to give you valuable, on-the-job training in the medical field.
Healthcare experience which can build toward other job opportunities — like becoming a nurse.
---
BAMA is proud to partner with Walgreens to provide students with a 240-hour, on-the-job
clinical pharmacy technician externship at one of the largest drugstore chains in the US.