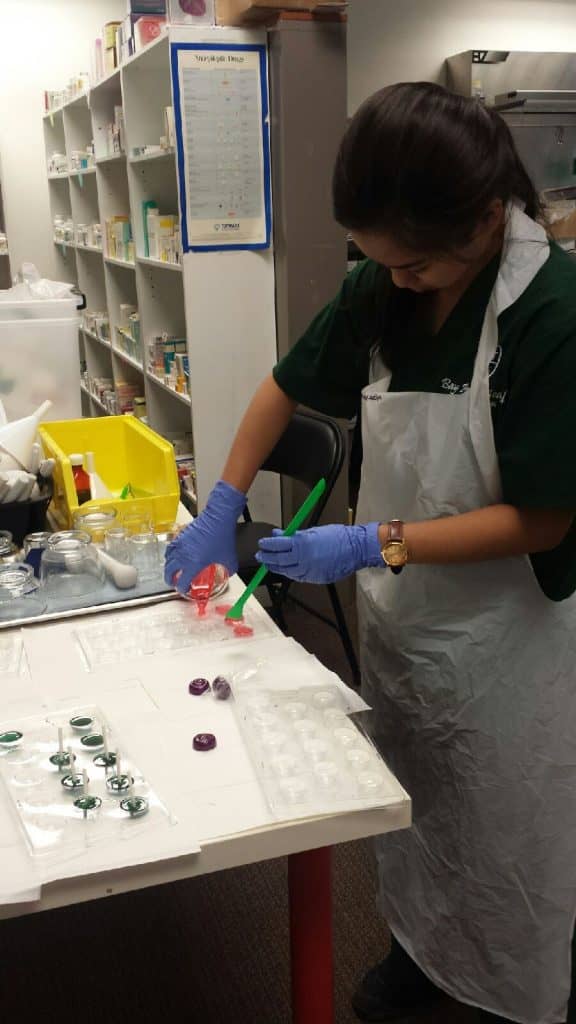 How important is it for a business to delight customers on your pharmacy tech program externship?
Here's one hint: three out of four consumers say they've spent more money with a company because of a history of positive customer service experiences.
It's one of many statistics showing how delighting the customer is essential in keeping and winning new business for employers.
Employers such as Walgreens.
"Extraordinary customer care is the most important element of Walgreens store operations," says Sherri Cookson, Walgreens Store Manager, Area 48 (San Francisco) Recruitment Team Lead, and a Certified Pharmacy Technician (CPhT). "We have to provide the best service for our customers and patients because without their patronage, we will not be successful."
How does a community pharmacy, such as Walgreens, go about taking care of its customers every day?
"Being polite, courteous, compassionate, empathetic, responsive, and thankful to our patients is essential to our success and sustainability," says Sherri Cookson.
Let's look at each of these customer service qualities so you can delight your customers on a pharmacy tech program externship.
Politeness and Courtesy
Customer service stat: 70% of buying experiences are based on how the customer feels they are being treated.
Treating customers with politeness and courtesy is perhaps the cornerstone of providing delightful customer service for any business. On your externship, an attitude and behavior that demonstrates respect and consideration will go a long way to showing the customer they come first. So too will an enthusiasm in your voice that audibly displays you're glad to see them.
Compassion
Customer service stat: It takes 12 positive experiences to make up for 1 unresolved negative experience.
Ask healthcare workers the reasons why they chose to work in the industry, and it won't long before you hear an answer: I want to help people. When a pharmacy patient recognizes you want to help ease their suffering and improve their health, they'll know they're being treated compassionately. When this happens, trust is built between the patient and you.
Empathy
Customer service stat: Top two reasons for customer loss: 1. Customers feel poorly treated 2. Failure to solve a problem in a timely manner.
On your externship you'll be helping people whose sole reason for being at the pharmacy is because they're ill, or know someone who is ill. Showing empathy for customers through acknowledging their situation and demonstrating your desire to help them, in what are often difficult times, is a strongly desirable quality to exhibit on your externship.
Responsiveness
Customer service stat: 3 in 5 Americans would try a new brand or company for a better service experience.
A pharmacy is a busy place and your ability to react quickly and positively in providing customer service is essential. When customer lines are long and people want to pick up or drop off their prescriptions, your responsiveness in meeting a customer's wants, needs, and desires will help reduce patient wait times and improve pharmacy outcomes. You'll stand out if you're a pharmacy technician who is quick to help and assist on your externship.
Thankfulness
Customer service stat: It's six-to-seven times more expensive for companies to win a new customer than to keep existing customers.
A customer can easily choose to go to another pharmacy the next time they need a prescription filled if they feel staff aren't appreciative of their business. Showing gratitude to the customer with a simple 'thank you' for their custom is one small, but big on impact, way to encourage that customer to return to the pharmacy the next time they need a prescription filled.
Never Forget You're a Customer Too
Every day, you enter into some kind of transaction with a business that provides you with goods or services. In the morning, you may grab your coffee at the coffee shop; at lunchtime, you may pick up a sandwich at a deli; in the evening, you may shop online for a new pair of jeans.
Now isn't it true that you'll buy your coffee from the same coffee shop, your sandwich from the same deli, and your next pair of jeans from the same online store, when you're treated as a valued customer?
If you don't receive the service you deserve, you're actions are usually resolute – you'll shop elsewhere when you need your coffee, sandwich, and jeans.
It's a thought to be kept firmly planted in your mind when you're on your pharmacy tech program externship: your own customer service experiences.
Ask yourself: how would you like to be treated if you were in the customer's position? When you do that, you'll be guaranteed to delight your customers with the healthcare services you provide.
---
BAMA is proud to partner with Walgreens to provide students with a 240-hour, on-the-job
clinical pharmacy technician externship at one of the largest drugstore chains in the US.