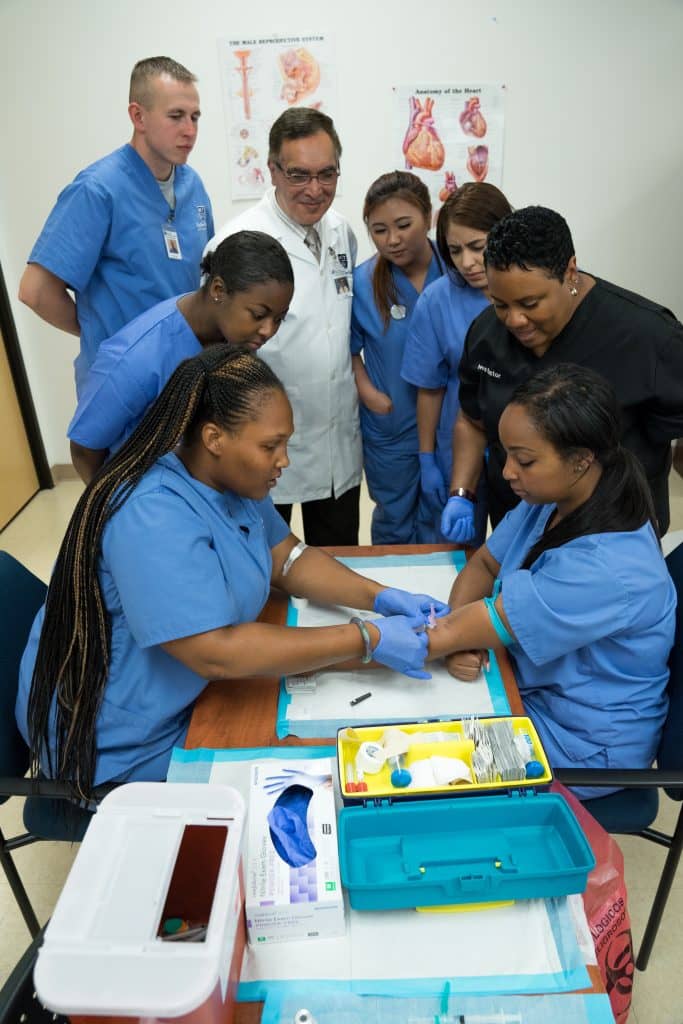 What is the right career training for you?
If you're stuck in a job you don't like, or you've just graduated high school and are thinking about what to do with your future, you may be considering going back to school and enrolling in a course that provides the right career training.
Career training, sometimes called job training or vocational training, is a great way for person to gain the knowledge and skills necessary to start a new trade or occupation.
There are many career training options to choose from, both at brick and mortar schools and online schools, here are some questions you may want to address to help you make an informed decision on the perfect school and course for you.
Are You Passionate About Your Career Choice?
You may already be dead set on training for a certain career. You could also be considering two or three career possibilities. Either way, it makes good sense to choose your training wisely. If the thought of going back to school to train for a certain career has you excited to get started, and there's nothing else you want to do with your life right now — these are good feelings to have before you move on to researching schools and courses. Your passion and enthusiasm for your career choice is going to spill over into your training making your time at school a positive experience.
Will the Course Give You the Right Career Training and Certifications You Need to Work in Your Chosen Field?
When you're researching schools and courses, ensure you'll get the training and certifications you need to find a job when you graduate. Meet with school admissions staff and instructors to discuss what you'll get out of the course, and how it will prepare you to enter in to your new career. Some schools, like healthcare schools, may even provide an externship where you'll put into practice your school training, get real-world experience, learn new working skills, and begin to make contacts that could possibly assist you in obtaining your first job.
Has the School a History of Successfully Training Students for Career Success?
Before you commit to enrolling at a school, ask to see if the school can provide you with a performance fact sheet on graduation rates and job placement rates. When you look at this fact sheet, is it evident the school makes good on its promises to students? Additionally, knowing a school is accredited by a reputable accrediting agency is a good indicator the school is meeting or exceeding minimum quality standards. Attending an accredited school that has history of graduating skilled professionals will also go a long way to ensuring employers will both respect your education, and know you're qualified to take on the demands of the job for which you've applied.
Does the Course Fit in with Your Timeline for Getting a Job?
One advantage of courses that train you for a particular career is they're designed to get you working quickly. This is good news, as you'll probably have a sooner-rather-than-later deadline for when you want to be working. Ideally, you'll want to enroll in a course that's long enough to give you the training you need, but short enough to get you on the job market without too much delay. You may also want to check to see if the course length is in keeping with what employers require from job candidates. For instance, a solid medical assistant training program that employers are looking for is usually less than one-year long and takes 700-900 hours to complete.
Is There Going to Be a Worthwhile Return on Your Investment?
It may be there's a high demand for workers in the career you want to train for. Alternatively, there could be a lot of competition for a few job vacancies in your chosen field. Whatever the case, when you graduate, it's important to ask yourself if your training is going to be an essential first step on the way to where you ultimately want to be in your career. Simply, will the course will provide you with a worthwhile return on your investment of money and time? If you don't see obvious benefits, you may want to think twice about training for the career in question.
With so many career training schools and courses to choose from, making a decision on which of them might be the best for you can be overwhelming. But by asking a few simple questions about the options available, you'll find the right career training for you.