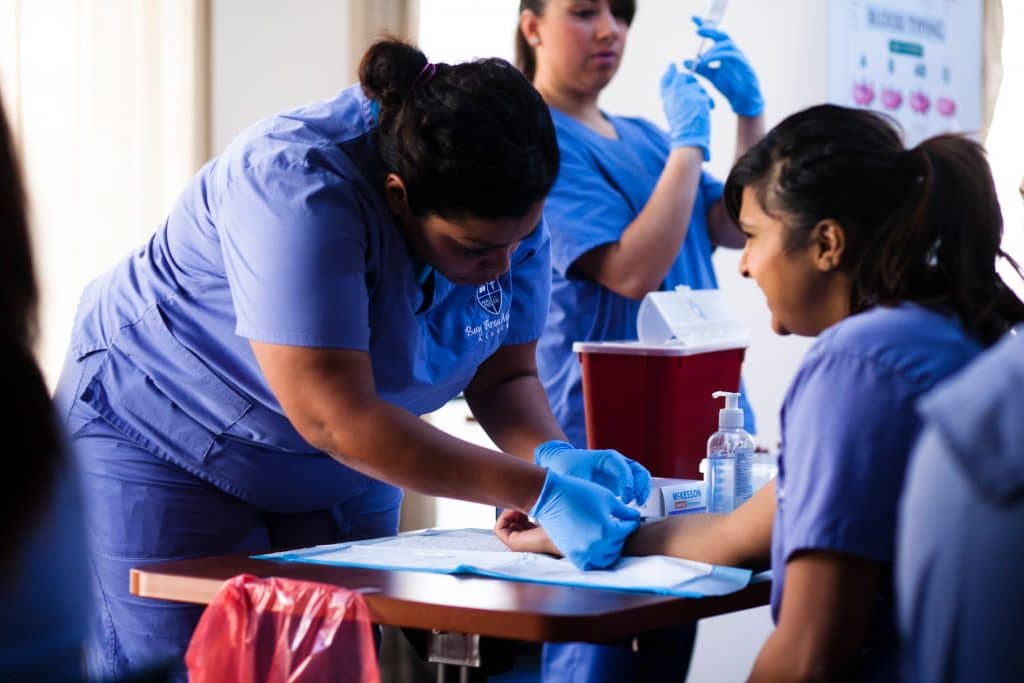 Can you get a taste of what it's like to work in a healthcare environment without first committing to enrolling in a healthcare career training school?
One way you can do that is by volunteering at a local medical facility.
Through a volunteer experience, you'll be able to:
Get a better understanding of healthcare working culture
Speak with healthcare professionals about their work experiences
See different healthcare professionals at work (and picture yourself in their shoes)
Interact with healthcare patients
By giving a little of your time you'll gain benefits and insight that could help you decide if enrolling at a healthcare career training would be a good move for you.
San Francisco Bay Area Medical Facilities You Can Contact About Volunteer Opportunities… Before You Start Your Healthcare Career Training
The San Francisco Bay Area has many healthcare volunteering opportunities.
Here are a selection of employers (with links to their volunteer page) you can contact.
You'll find that many of these medical facilities offer day, evening, and weekend volunteer opportunities assisting with a variety of duties across different departments.
Berkeley
The Berkeley Free Clinic
LifeLong Medical Care
Alta Bates Summit Medical Center
Burlingame
Mills-Peninsula Medical Center
Contra Costa
Daly City
Daly City Youth Health Center
Seton Medical Center
Milpitas
Alliance Occupational Medicine
Monterey
Community Hospital of Monterey Peninsula
Mountain View
Oakland
Children's Hospital and Research Center
Asian Health Services
Charlotte Maxell Complementary Clinic
Oakland UCSF
Palo Alto
Stanford Health Care
Stanford Blood Center
San Francisco
Zuckerberg San Francisco General
San Francisco AIDS Foundation
Strut
HealthRIGHT360 (Haight Ashbury Free Clinic)
UCSF Medical Center
California Pacific Medical Center
Curry Senior Center
Glide
Native American Health Center
North East Medical Services
Saint Anthony Free Medical Clinic
Saint Mary's Medical Center
Street Outreach Services
Blood Centers of the Pacific
Kaiser Permanente
American Red Cross
Clinic by the Bay
Friends of Laguna Honda
San Francisco Bay Area
San Jose
Kaiser Permanente
Good Samaritan Hospital
O'Connor Hospital
Asian Americans for Community Involvement
San Mateo
San Mateo Medical Center
Samaritan House
Santa Clara
Santa Clara Valley Medical Center
Is there a medical facility close to you where you'd like to volunteer that's not listed? Then why not contact that employer and find out if they have volunteer opportunities that would be a good fit for you?
Even if you don't eventually enroll at a healthcare career training school, volunteering can still be a great benefit to you and others.
When you volunteer, you'll also:
Make a difference in people's lives
Give back to your community
Gain new skills and experience
'Punch up' your resume with impressive work history
How does volunteering before you commit to healthcare career training sound to you?