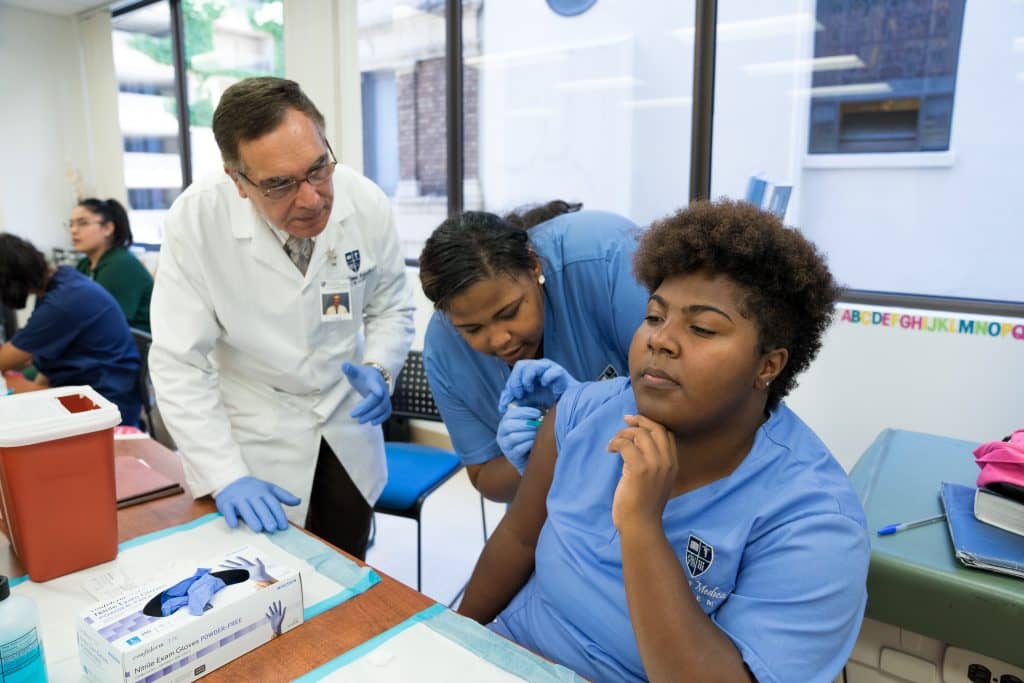 Usually medical employers are looking to hire phlebotomists with at least 1 year of experience drawing blood and/or other healthcare experience for hospital and clinic phlebotomy positions.
If you want to enter the healthcare field for the first time and work in a hospital, clinic, or physician's office, you may want to consider enrolling in a longer career training program that gives you more healthcare skills (leading to increased job opportunities), like a medical assisting program, rather than a shorter, continuing education phlebotomy course.
Phlebotomy Employers Are Looking to Hire Experienced Phlebotomists
Visit phlebotomy employment websites such as Get Phlebotomy Jobs or Phlebotek, and you'll see many phlebotomy jobs listed at local hospitals and clinics. However, if you read the job descriptions, you'll see medical employers are predominantly looking to hire experienced phlebotomists for these positions.
This isn't to say a newly CPT-1 licensed phlebotomist without professional blood drawing experience and/or other healthcare experience wouldn't get interviews for these phlebotomy positions, or even get hired, but this is usually the exception rather than the norm when a candidate is competing for hospital and clinic phlebotomy jobs with more experienced phlebotomists.
Unless you're a phlebotomist who is able to work as a mobile examiner performing patient examinations on an independent contractor basis for the purposes of insurance underwriting (which is a great way to gain phlebotomy experience for hospital and clinic positions!) you may struggle to get hired shortly after graduation.
It helps to be mindful of how your career expectations match up with the reality of the situation.
Why a Medical Assisting Program May Be a Better Choice for You
If you're searching for a healthcare career that goes beyond drawing blood, and where there's greater job opportunity for fresh graduates, it's worthwhile considering enrolling in a medical assisting training program.
"There is so much versatility in the skills of medical assisting," says Andrea Earby, BAMA Medical Assisting Instructor.
"Medical assistants check in and prepare patients for the doctor; take patient's medical history; perform vitals and EKGs, administer injections; undertake suture removal and dressing changes; answer phones; schedule patient appointments; provide patient education and explanation of treatment procedures; and assist the doctor in office procedures."
Graduating from a medical assisting program that offers medical assisting, phlebotomy, and EKG certifications makes you a highly sought-after and competitive job candidate.
Unlike phlebotomy employers, hospitals and physician's offices seeking to hire medical assistants are usually open to hiring fresh medical assistant graduates with only their externship experience boosting their resume work history.
Which Healthcare Training Is Going to Provide You with the Career You Want?
The Bureau of Labor Statistics reports that medical assisting occupation in 2016 consisted of 634,400 jobs nationally, much higher than for phlebotomists at 122,700 jobs.
With this kind of job market, does training to become a medical assistant make more sense to you?
If you're considering a phlebotomy career because of the shortness of the course, realize a quicker healthcare training course doesn't necessarily mean quicker healthcare employment. Other hiring factors are in play.
As with any career, there's no such thing as an overnight success. And often the more work you put into an endeavor, the greater the rewards (or outcome).
Is it a good time to ask yourself: which healthcare training is going to provide you with the healthcare career you want — when you want it?
Medical assisting or phlebotomy… the choice is yours.