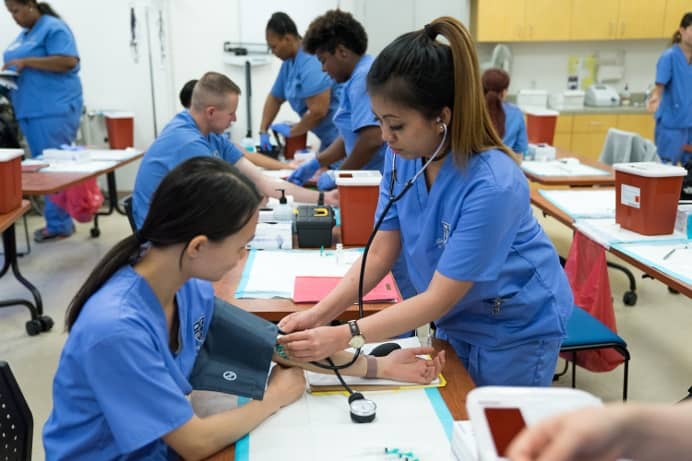 San Jose metro area hospitals are featured highly in the recent U.S. News and World Report best California hospital rankings.
Ranked #1 in California is Stanford Health Care-Stanford Hospital in Palo Alto; ranked #18 in California is El Camino Hospital, Mountain View; and ranked #32 in California is Kaiser Permanente Santa Clara, Santa Clara.
Additionally, other best hospitals in the San Jose metro-area hospitals are:
VA Palo Alto Health Care System
St. Louise Regional Hospital
Hazel Hawkins Memorial Hospital
Regional Medical Center of San Jose
Kaiser Permanente San Jose Medical Center
O'Connor Hospital
Santa Clara Valley Medical Center
Good Samaritan Hospital
If you live in the San Jose metro area and want to work in healthcare, great career opportunities exist at respected and thriving medical employers.
Especially for medical assistants.
A typical medical assisting training program is a quick and affordable way to start working as a certified healthcare professional who is a vital member of a today's healthcare teams.
About BAMA's San Jose Medical Assisting Program
Your healthcare school research will involve visiting school websites, reading school reviews, talking to admissions staff, speaking with family or friends who may have been a student at the school, and visiting campuses.
If you're wondering what a typical school day is like for a BAMA San Jose medical assisting student, here are a few things to expect and look forward to during training.
BAMA's 9-month San Jose medical assisting program runs Monday to Friday, 9:30am to 3:00pm, and has monthly enrollment.
The program includes medical assisting, phlebotomy, and EKG technician training.
Among other things, students learn vital-signs testing, venipuncture and patient preparation for exams and procedures, as well as administrative duties needed for successful entry into the healthcare field.
The final 200-hour clinical externship component is a resume booster, providing students with first-hand on-the-job medical experience.
Other Benefits of BAMA's San Jose Medical Assisting Program
During the appropriate medical assistant training module, BAMA's Career Services Team  arranges for BAMA graduates to visit the campus to speak to students about their experiences working in healthcare.
Additionally, leading Bay Area medical employers also visit the campus to speak with students about work place professionalism and career pathways for medical assistants.
BAMA also likes to shake things up every once in a while for the students with celebration events. On these days scrubs can give way to colorful, more alternative dress.
Celebration events that have become annual fixtures at the school are: student appreciation days, Hawaii Day, a Halloween costume contest, and ice cream socials.
Medical Assistants Are in Demand Across the Country (Not Just in San Jose)
The Bureau of Labor Statistics reports that medical assisting employment is projected to grow 29 percent nationally from 2016 to 2026, much faster than the average for all occupations.
This employment growth is attributable to an aging baby-boom population requiring increased preventive medical services, often provided by physicians.
If you're empathetic, efficient, and you work well in a team, then consider training to become a medical assistant.
You'll make patients feel at ease, while at the same time helping physicians with administrative and clinical duties.
You'll also be starting along a path that can lead to a long-lasting and upwardly-mobile career working in the healthcare industry.
And soon you'll be on your way to a long-lasting and upwardly-mobile career working in the healthcare industry.