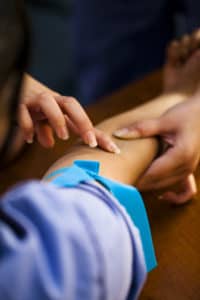 Phlebotomy Technician Graduate, Kiley Munoz is no stranger to healthcare work. After receiving my EMT License 9-years ago, she began working for a local doctor, who provided on-the-job training so she could work as a medical assistant.
Later, Kiley says: "I transitioned to a different office where the work was more clerical than clinical focused, during which time I completed my Bachelor's of Science degree in Business Management. However, I still wanted to use my healthcare skills to assist in treating patients, and this desire lead me to pursue phlebotomy."
Many students are referred to BAMA by family and friends. "I heard about BAMA from a coworker of mine, whose daughter attended the school. She told me that BAMA offered a few different courses with flexible time frames and days of the week for attendance that might work with my schedule," Kiley says.
But why did Kiley want to train to become a certified phlebotomy technician?
"I had a bit of phlebotomy on-the-job training and it was always something I loved to do and seemed to have a knack for," Kiley says. "I feel that phlebotomy is a huge part of the healthcare system. Without phlebotomists, there'd be a lot of undiagnosed diseases and untreated patients."
When Kiley contacted BAMA, she knew the school would be the right choice for her. "Within the first five minutes of speaking with admissions staff, I knew I didn't need to search for any other schools. Their attitude and kindness made up my mind to attend BAMA," Kiley says.
Kiley put in the hard work needed to graduate the Phlebotomy Technician Course. "My biggest challenge was the fact I live way up in Yreka, and had to work a full-time job while attending the school. It was a challenging two months, but completely worth it. Not only was the experience amazing, but I love San Francisco, and I made friends I'll know forever."
Once Kiley completed her school training, she was ready to begin her clinical externship. "My externship was at Fairchild Medical Center, a hospital that's local to me. This allowed me to stay close to home and keep working, which was a huge thing," Kiley says. "My externship also opened the door for other BAMA students who may live in the Yreka area and are interested in completing their externship at the hospital."
Working as a Phlebotomy Technician
After her successful externship, Kiley returned to working as a lab Manager and primary phlebotomist for a contracted VA facility. "We always had a small functioning lab, but would only perform basic lab orders," Kiley says. "However, now that I have my CPT-1 license, we can perform a wider range of lab draws that we couldn't do in the past."
Kiley also started work as a phlebotomist at her externship site, Fairchild Medical Center. "I love the fact that I get to improve upon my skills because of the difficult draws that come my way," Kiley says. "It's a faster-paced environment and it's taught me to be a better phlebotomist."
Does Kiley have any advice for people wanting to enroll in BAMA's Phlebotomy Technician Course? "Go for it! You'll love the facility and everyone involved," Kiley says. "My instructor was outstanding. He was fun, interactive, had a great sense of humor, and was very encouraging. He never made any student feel as though they couldn't perform the tasks that were given."
What's next for Kiley? "Getting my CPT-1 license has given me the opportunity to start a second job and start saving some money." Kiley says. "That money is my travel fund and play money. I love to be outdoors. I hike, camp, and kayak. So I'll begin traveling soon!"