BAMA and work2future together started my healthcare journey, and put me in the perfect position to do everything I want to do, and more. I could be a doctor if I wanted to! It gave me those opportunities to decide what I want to do.

– Cheyanne Segura, Medical Assistant at Kj Kids Pediatrics, San Jose.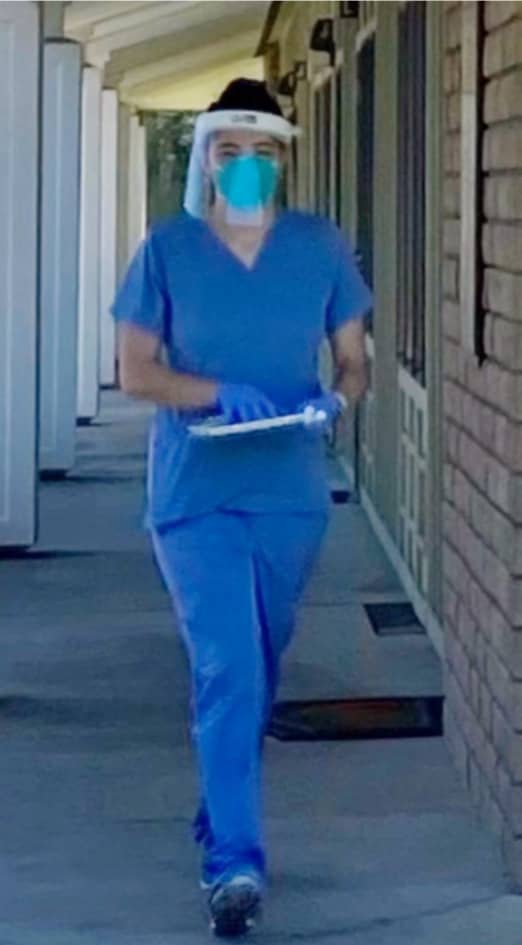 It was great to catch up recently with BAMA medical assisting with phlebotomy graduate, Cheyanne Segura, who is one of our scholarship awardees. Here's what she had to say!
What inspired you to join the Bay Area Medical Academy 3-in-1 Medical Assisting Program with Phlebotomy and EKG Training?
I always knew I wanted to help people. Then Covid happened, and I thought healthcare is probably the best way to help people. Honestly, I don't even know where I was before I joined BAMA. I didn't have anything going on that I was really proud of. Now, after joining BAMA, I'm extremely proud of myself, my family's super proud of me, and I'm trying to pursue nursing in the near future. It opened a lot of doors for me.
How was your experience in the Medical Assisting Program?
I loved it. Dr. Zara (Dr. Zara Minassian, an instructor at our San Jose campus) is amazing. My favorite memories at BAMA were how excited me and my classmates would get every time one of us received a certification. (The 3-in-1 Medical Assisting Program prepares every student for three separate certifications for Medical Assisting, Phlebotomy, and EKG tech.)
How has your BAMA education helped you achieve your career goals?
BAMA started my healthcare journey and put me in the perfect position to do everything I want to do, and more. I could be a doctor if I wanted to! It gave me those opportunities to decide what I want to do.
Before coming to BAMA, I just wanted to be a phlebotomist. Now I'm a phlebotomist, EKG certified, and I work in pediatrics as a medical assistant. I work at Kj Kids Pediatrics, which is also known as Dr. Armann's office.
I'm choosing to pursue nursing in the future because I love medical assisting. I feel like nursing will be even more hands-on because medical assisting is kind of a combination of working the front and back end.
What's it like working as a medical assistant in pediatrics?
I get to the office, clock in, and my first patient comes at 9:00 AM. After I go through and set up all the exam rooms, I see about 30 patients a day, and I get to play with all of them. I administer lots of vaccines.
I work with kids because I work in pediatrics, so my favorite thing about my job is being able to play every single day I'm at work. There's never a serious moment, like even when I'm doing vitals and everything. It's almost like playing a game with them. It's the best job someone could have.
What advice do you have for people considering going back to school and pursuing a job in healthcare?
It is probably the best thing you'll ever do. Genuinely. Going back to school is really not as hard as I thought it would be, especially with how much support BAMA gave us. It made it a really easy transition from work to back to school. If I could change anything about my healthcare journey, I would have started it sooner.
Not only did BAMA give me the most amazing scholarship, but Dr. Zara was really helpful. She really took the time and energy to walk me through things. Even if I didn't get it the first time, she was supportive until I got it.
How did you find out about the BAMA scholarship?
BAMA partnered with work2future, which is one of the programs I was in, so I didn't have to pay to go to school.
I was trying to get a Facebook internship. My career advisor at work2future encouraged me to think about what I really wanted to do. I always wanted to work in the healthcare field. They mentioned their partnership with BAMA where they typically match funds. It really did fall into my lap. Even when I was in high school, I saw BAMA and wanted to go there, but I didn't have the money for it. In the end, it all worked out.
One of my friends found out about BAMA from one of your social media posts. I had re-shared something BAMA had posted and my friend asked, "Oh my god, do they do scholarships?"