If you're thinking about going back to school as an adult to pursue a career in healthcare, you may have some questions about the various roles and career paths within the medical field. For instance, Certified Medical Assistants (MAs), Licensed Vocational Nurses (LVNs), and Registered Nurses (RNs), can all be part of a healthcare team and often work together to provide healthcare to patients — and while their duties may sometimes overlap, there are important differences in what each role can do and the certifications and licensing boards associated with each profession. Here, we consider the different roles a Medical Assistant (MA), a Licensed Vocational Nurse (LVN), and a Registered Nurse (RN) play in delivering patient care.
The Medical Assistant (MA)
Remember the last time you visited a doctor's office? Do you remember the person in scrubs who greeted you and prepared for your visit with the doctor? This person most likely was a medical assistant. The medical assistant, or MA, is the face of today's healthcare team, often serving as the first point of contact for patients. If you enjoy helping people and working directly with patients this could be a great career for you.
A medical assistant plays a vital and versatile role in providing high-quality healthcare, helping patients feel at ease, and relieving physicians and nurses from many clinical and administrative duties. MAs work in facilities with a physician present and are responsible for preparing patients for their visit with their doctor. The MA's duties may be administrative or clinical, or both, depending on the particular setting they're working in.
The duties of a certified medical assistant are varied and include preparing patients for their examination, preparing the examination room, taking vital signs, recording medical history, administering oral medications, collecting samples, performing lab procedures, performing office tasks such as scheduling appointments, coding medical bills, and insurance claims, and other administrative duties. In some cases, a medical assistant with the right credentials also performs blood draws as a phlebotomist and works as an EKG technician. Because of their versatility, many MAs were able to perform crucial tasks during the pandemic such as COVID testing and administering vaccinations.
There are some limitations on MAs, for example, in the state of California, MAs may not work for inpatient care in licensed general acute care hospitals. MAs generally cannot perform tasks that are invasive to a patient or require assessment or diagnosis.
Administrative, Clinical, and Laboratory Duties
Working as an entry-level medical assistant may involve a split of administrative and clinical duties. With this in mind, medical assistants may perform some or all of the following job duties and responsibilities:
Administrative Work (Front Office)
Scheduling patient appointments
Recording patient history and personal information
Answering and making phone calls
Verifying insurance eligibility and benefits
Processing authorizations for HMO and Medicare office visits
Clinical and Laboratory Work (Back Office)
Checking patients in and out
Measuring vital signs
Assisting the physician with patient examinations
Administering patients' injections or medications as directed by the physician
Blood draws (if CPT-1 certified)
Preparing blood samples for laboratory tests
Performing EKGs
Medical Assistants are credentialed, and passing the CMA exam is required for certification by the American Association of Medical Assistants (AAMA). Some MAs hold additional certifications, such as the CPT-1 certification, which enables professional work as a licensed phlebotomist in a clinical setting.
Training programs for MAs, such as the ones offered at Bay Area Medical Academy (BAMA), take less than a year to complete and include an externship placement (practicum) that is arranged for each student and provides real-world experience in a doctor's office, hospital or clinic as a requirement for the program. Additionally, the BAMA program supports students as they prepare themselves for taking the certification exams. Becoming a certified medical assistant offers more career opportunities.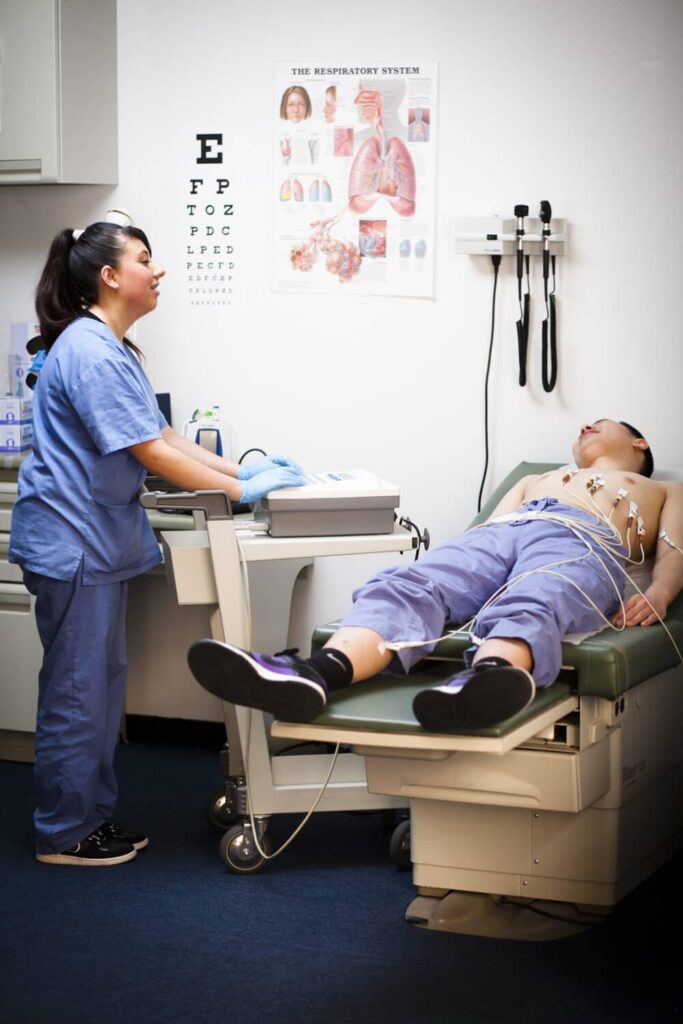 Working as a medical assistant is a popular career choice for many people looking to begin a healthcare career because the training can be completed in less than a year, and with an aging population, the need for medical assistants is expected to grow faster than in many other careers.
A Licensed Vocational Nurse (LVN)
A licensed vocational nurse (LVN) is another career option within the healthcare field. An LVN can perform all of the duties that an MA can, and may perform certain additional duties for patients with predictable needs. Some additional tasks within their scope of practice include telephoning prescriptions to a pharmacy, collecting and preparing lab specimens, and, under certain conditions, they may have the ability to start and continue to give intravenous fluids medications.
LVNs can work in a hospital or residential care facility, while in some states MAs cannot, and LVNs may perform certain tasks an MA cannot perform, but their duties may be similar.
LVNs are not independent practitioners and must practice under the direction of a physician or a registered nurse. Each state may have variations in requirements, but all require a certification exam such as the NCLEX-PN licensing exam. Training programs for an LVN often take a year to complete.
A Registered Nurse (RN)
Registered Nurses or RNs have the highest level of responsibility in their scope of practice of the three roles and are generally not considered entry-level positions within the healthcare field. RNs can supervise others, including LVNs. While an RN can perform all of the duties that an LVN and an MA can, they can also perform other specific duties that include providing care to patients with more complex health care needs, which the other roles cannot, such as initiating an intravenous infusion or performing diagnostic testing and analyzing the results. RNs are also able to give patients advice on treatment plans, and they work more independently.
The role of RN requires the most education of the three roles and often takes between two and four years to complete at an accredited nursing school.
While all three roles, MAs, LVNs, and RNs, all perform essential aspects of patient care, it's important to note some of the key differences. In a future post, we'll discuss other specialized roles and different career pathways within the healthcare field.