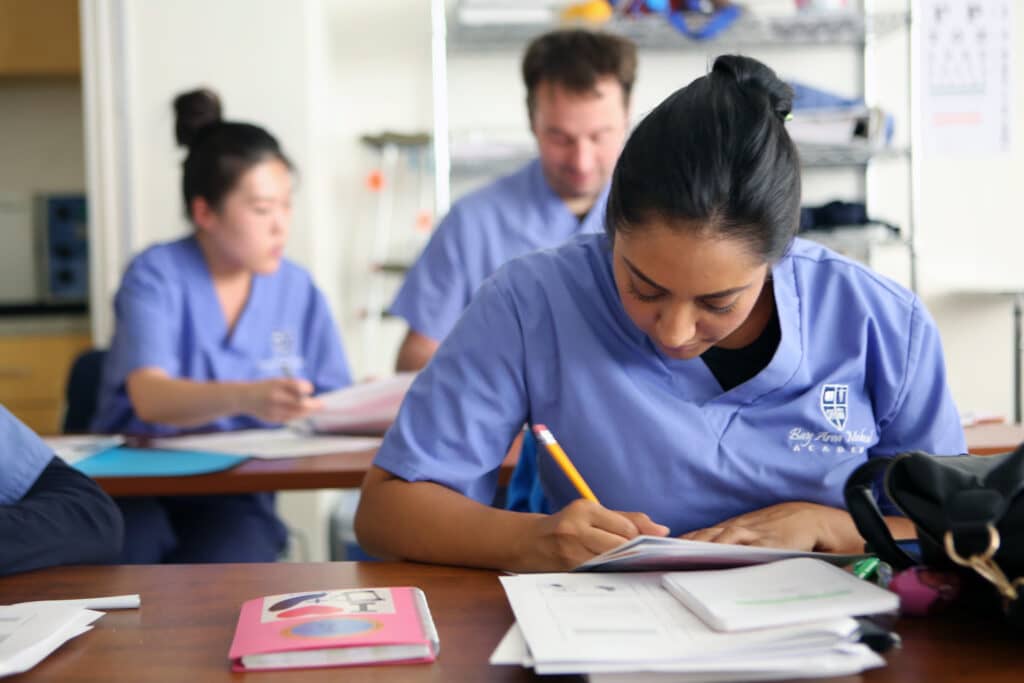 When you sit down and compare MA vs. phlebotomist career tracks, you realize it's not really about choosing one over the other. It's about understanding how they supplement each other.
A medical assistant career path is a more comprehensive one that opens up many opportunities; Phlebotomist training is a vital part of that career path. As you weigh MA vs. phlebotomist programs, keep in mind that the best medical assisting programs give you the foundational skills you need to become either.
MA vs. Phlebotomist Programs and Career Tracks at a Glance
As you review MA vs. phlebotomist programs, it's important to explore both the training requirements as well as career potential.
Medical Assistant
Phlebotomist
Description

Medical assistants work with patients, handle administrative duties, perform laboratory tests, and assist physicians during diagnosis and treatment.

Phlebotomists collect, categorize, transport, and prepare blood samples for testing at the direction of medical providers in hospitals, laboratories, and doctors' offices.

Training

BAMA offers a 900-hour, 9-month MA training program
Program includes administrative and clinical skills training
Students participate in a 200-hour externship for job experience and connections.

BAMA Institute offers a 120-hour phlebotomy course that can be completed in two, three, or five-week programs.
Program focuses strictly on phlebotomy skills and obtaining the CPT-1
Students in the phlebotomy program participate in a two to four-week externship.

Career Outlook

Growth: 16% annually
Salary range: $30,210 to $61,800 per year
Top workplaces: Outpatient care facilities, hospitals, medical offices

Growth: 10% annually
Salary range: $37,380 to $48,490 per year.
Top workplaces: Laboratories, doctors' offices, ambulatory healthcare centers.

Pros

Greater career prospects
Higher pay
Access to financial aid
Greater versatility

Short training
Low cost
High skillset demand
Faster workforce entry

Cons

Longer program
Challenging curriculum
Higher training costs

Niche skillset
No financial aid
Limited career path
When deciding whether to do a comprehensive MA program or just a specialty skill such as phlebotomy training, there are several things you'll want to consider. While phlebotomy is an excellent skill, it's ideally a supplemental one. Someone who is just entering the healthcare field is better off with the medical assistant route. First, training as a medical assistant with EKG and Phlebotomy training in a program such as BAMA's offers broad potential for a career in the healthcare industry. It's that kind of versatility that gives you the freedom to carve your own medical career path. However, if you are looking for a short-term program or are already in the healthcare field and looking to add a certified skill, phlebotomy could be the right option for you.
What It Takes to Start a Medical Assistant or Phlebotomist Career
In addition to the training and opportunities in MA vs. phlebotomist careers, it's important to understand the soft skills and experience that help people excel in these fields. Our students have a wide range of backgrounds, but they share common traits that drive success in medical assistant and phlebotomy careers.
Strong communication skills: Good MAs and phlebotomists are diplomats who know how to communicate complex, and often intimidating, information to patients. They're also active listeners, gaining the information needed to help physicians make decisions.
Empathy: Patients may be afraid or in pain during medical treatment, especially in emergency or inpatient settings. A good MA or phlebotomist understands this and helps to put their patients at ease.
Problem-solving: Medicine is fast-paced. The ability to take in information and make snap decisions is critical. All good MAs and phlebotomists know how to react to unexpected situations and provide the support the patient needs.
Team player: No medical practice hinges on one person alone. It's about how all the professionals work together as a team. Even phlebotomists, who work in somewhat isolated positions, will have to work with people across departments.
Organizational skills: The stakes are high in a medical environment. Even a small mistake can have serious consequences. Strong organizational skills are vital for medical assistants and phlebotomists to avoid these kinds of issues.
One thing you may have noticed about the above skillsets is that none of them are medicine specific. These are skills people pick up working in retail, at fast food franchises, or while driving for Uber. They're also the background of a lot of our successful graduates from BAMA. We provide medical assistant training, but all of our students bring their own life skills to the table.
Medical assisting is the best way to go when comparing MA vs. phlebotomist programs. While both are excellent, medical assisting opens up an entire world of opportunities that lay the foundation for a successful career.
BAMA offers medical assistant and phlebotomy training at our San Francisco and San Jose campuses.