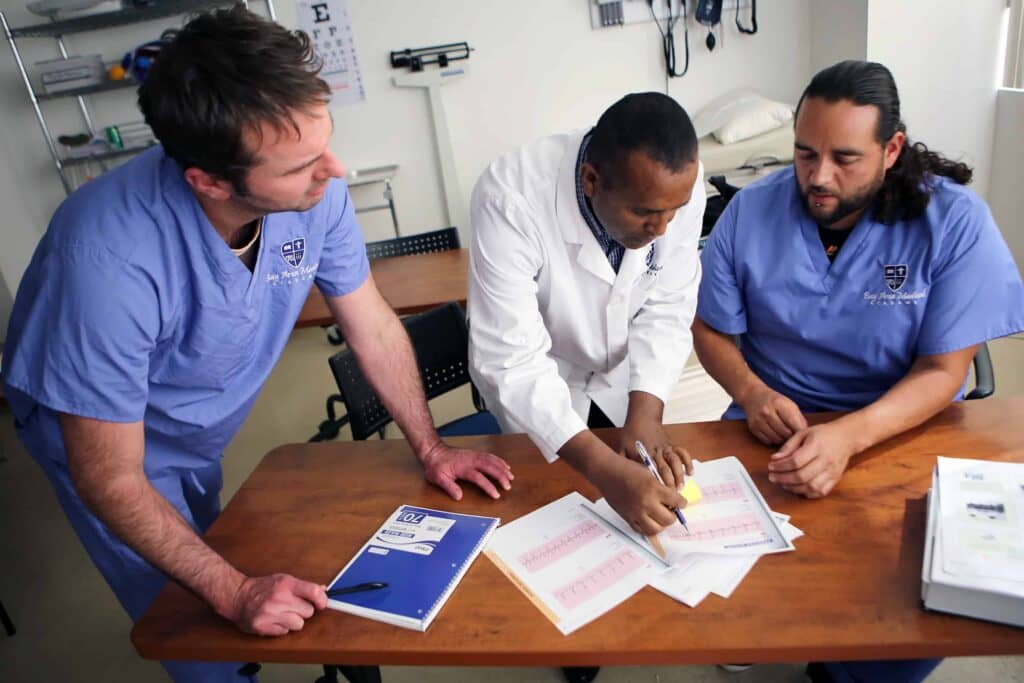 Most healthcare employers require certification if you want to become a medical assistant (MA) in California. When MAs are certified, employers know they have the knowledge and skills to provide the best patient support. By exploring how to become a medical assistant in California, you can take the first step toward a brighter future.
How to Become a Medical Assistant in California in Five Steps
Becoming a medical assistant in California is a great way to quickly embark on a rewarding and highly sought-after career in the healthcare field. With the need for medical assistants at an all-time high, medical assistant training at Bay Area Medical Academy can open up the door to exciting new opportunities in as little as nine months.
1. Interview and enrollment
The process for interviewing and enrollment at BAMA takes about ten days to a month thanks to our revolving schedule and involves the following:
Admissions interview: You will meet with one of our enrollment advisors and the program director to determine if the 3-in-1 Medical Assisting with Phlebotomy Program at BAMA is the right step for you.
English assessment: You'll complete an English assessment to ensure you have the language skills to thrive in our program.
Transcript: You will submit two sealed official transcripts from your high school. If you have a foreign diploma or college degree, it will need to be evaluated for US equivalency.
Financial Aid: Most of our students qualify for financial aid through FAFSA, scholarships, subsidized and unsubsidized loans, or other public funding programs. Some students even qualify for no-cost medical assistant training.
Essays: Essays aren't required from all applicants, but may be part of the application process for certain scholarships.
Once you complete the above and are admitted to our program, you're ready to move into the classroom.
2. Classroom study
At BAMA, we follow a module format. Our first 7 modules are dedicated to giving you the knowledge you need to thrive in a healthcare environment. Our program is broken down into three focus areas.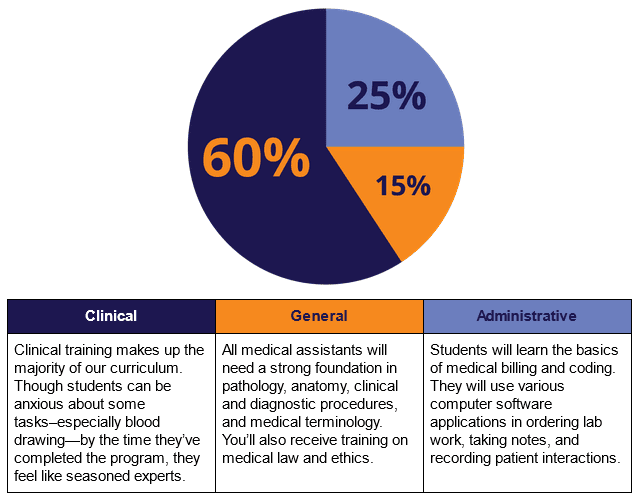 Our instructors are attentive to individual student challenges, working one on one to help you gain the confidence you need. No one is ever left struggling in our supportive community; even fellow students jump in to help.
3. Exams
Now, steps three and four don't necessarily go in this order when it comes to the National Certified Medical Assistant exam. While some students elect to take the exam before their medical assisting externship, we do not require it. In fact, some students find that it's easier to pass the exam after they've gained practical experience from their externship.
However, you do have to pass the National Certified Phlebotomy Technician (NCPT) exam to be eligible for the phlebotomy externship. This is a test administered by The National Center for Competency Testing and is a 125-question, three-hour exam covering:
Professional standards
Safety protocols
Medical terminology and anatomy
Orders and equipment
Site prep and procedures
Collections and problem resolution
Once you pass this exam, you'll be eligible to work at one of our offsite externships.
4. Externship
Your clinical externship is an opportunity to work with one of our partners and gain real-world experience in a healthcare setting. You'll work in a hospital, laboratory, or medical office, helping physicians, guiding patients through procedures, and performing venipunctures or skin punctures. Over the 200-hour placement, you will gain confidence and industry connections that will prepare you for the future—and for the final stage of your journey: certifications.
5. Graduation and Certifications
BAMA's 3-in-1 Medical Assisting with Phlebotomy Program includes three valuable medical certifications that will put you in high demand with California healthcare employers:
National Certified Medical Assistant: As a certified MA, you will enjoy more opportunities and better career longevity.
Certified EKG Technician, CET: You can administer electrocardiograms and interpret results.
California Certified Phlebotomy Technician (CPT-1) / National Certified Phlebotomy Tech: These allow you to perform all the duties of a phlebotomist in the state of California, including performing skin punctures and venipunctures on patients.
Of course, at BAMA, our services don't stop when you graduate. We can also help you find the right employment opportunities to put your new skills to use.
How BAMA Helps You Embark on Your New Career
While many schools offer the above five steps for how to become a medical assistant in California, not all have the dedication to help you find a healthcare job that's the right fit for you. While we can't guarantee employment, our Career Services are available to all graduates and provide lifetime job search support. We provide job referrals and leads, interview workshops, resume writing assistance, and even employer on-campus days for meeting potential employers face to face.
If you're looking to start your career as a medical assistant, BAMA is here to guide you every step of the way. By the end of our training program, you'll be a confident medical assistant with the skills to make you an asset to any healthcare facility.
BAMA provides the best path to becoming a medical assistant in California.