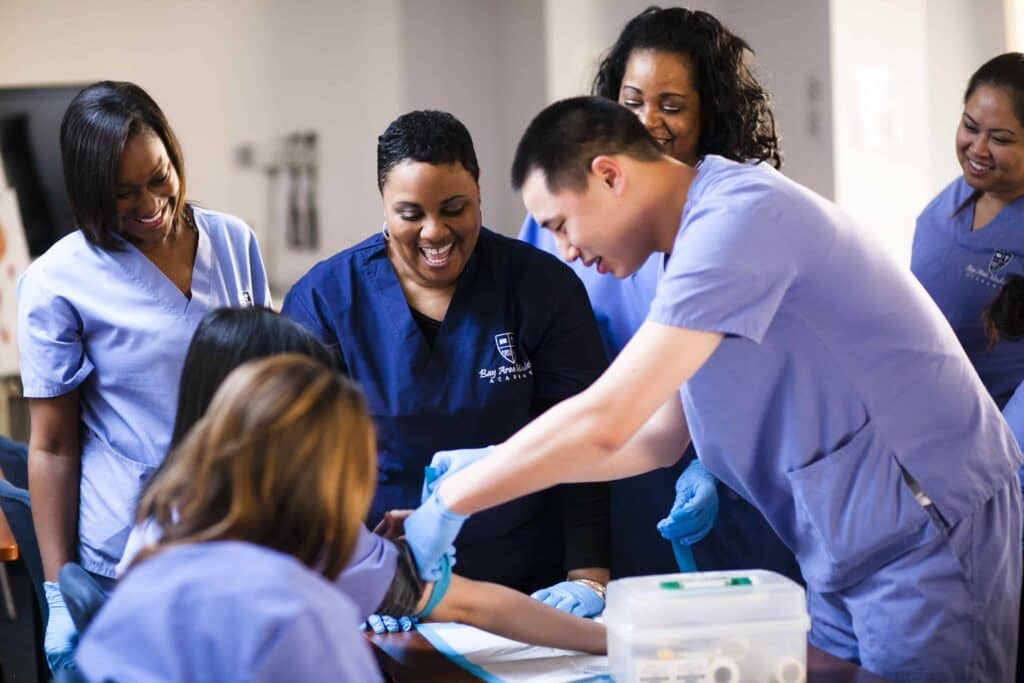 If you're considering a career in the healthcare field, medical assisting can be a great option, and certification can help you maximize your opportunities. But do medical assistants need to be certified in California?
While certification is not legally required for medical assistants in California, certain credentials make you far more competitive in the workforce. The big thing to remember is certifications don't govern what you can call yourself; they cover what you can do while you work in that position.
A medical assistant (MA) with more certifications can take on more responsibilities and demand a higher salary and better benefits because of it. Additionally, more advanced certifications are required by large, well-known healthcare employers in the Bay Area. So while it's possible to work as a medical assistant without certification, getting certified opens up the door to more—and, often, better—opportunities.
When Do Medical Assistants Need to Be Certified in California?
Medical assistant certification is voluntary in the state of California. One of the most popular options, the National Certified Medical Assistant, is governed by the National Center for Competency Testing*. The immediate benefit of going with the NCMA is that it's reciprocal; if you are certified in California, you can also work in other states where the MA credential is or might be required, such as Idaho, Washington, Connecticut, and New Jersey.

Of course, it's less about what's required and more about what's desired when it comes to employment. About 62% of employers require MA certification for hiring eligibility. That's because they know that these individuals will have the advanced skills needed to handle more complex medical tasks from day one. Some employers require MAs to be certified in order to perform venipunctures, EKGs or other specific tasks.
Which MA Certifications Are Best for Career Advancement?
If you want to make the most of a career as a medical assistant, do medical assistants need to be certified in California? isn't the most important question to ask. Instead, look at the criteria that top employers use when setting their standards for medical assisting.
Most employers require that their candidates graduate from an accredited program approved by the California Medical Board. The board requires that these programs include the following:
10 hours of training on injections and skin tests
10 hours of training in venipuncture and skin puncture
10 successful intramuscular injections
10 successful subcutaneous injections
10 successful intradermal injections
10 skin tests or at least 10 venipuncture and 10 skin punctures
10 hours of training in medical inhalation
Instruction and demonstration on:

Anatomy and physiology
Equipment
Techniques
Hazards and complications
Patient care
Emergency procedures
California law
While some schools offer certification programs as short as six weeks, cramming that much information into such a short period of time isn't optimal.
Bay Area Medical Academy's 3-in-1 Medical Assisting with Phlebotomy Program not only meets the California Medical Board standards, it exceeds them. Our comprehensive approach prepares students to take the National Certified Medical Assistant exam that so many employers seek and gives you a broad range of skills—including phlebotomy and EKG training.
Phlebotomists can draw blood without the supervision of a doctor. In California, this requires a California Phlebotomy Technician (CPT)-1 license, which is obtained by attending an approved training program, submitting a statement of experience, and passing an exam. The training program can be completed as part of an MA curriculum, or as a standalone program.
MAs with a CPT-1 license are a great asset to physicians who offer in-office bloodwork, and hospitals and laboratories will typically require phlebotomy from MA job candidates. As such, a training program that combines medical assisting with phlebotomy, like Bay Area Medical Academy's program, greatly expands your career options.
Of course, certification requirements vary by employer. When applying for an MA position, it's important to confirm that you qualify for the opening.
Creating a Path to Your Future
While medical assistants do not have to be certified in California, those who choose to pursue certification stand out from the crowd. An approved, accredited MA program prepares you for the real-world challenges of the position and shows employers that you're serious about your skills. With the right certifications, you build a better and more rewarding career.
Bay Area Medical Academy thoroughly prepares you for medical assistant certification in California with a program that exceeds state medical board standards. To learn more, reach out to an admissions representative.