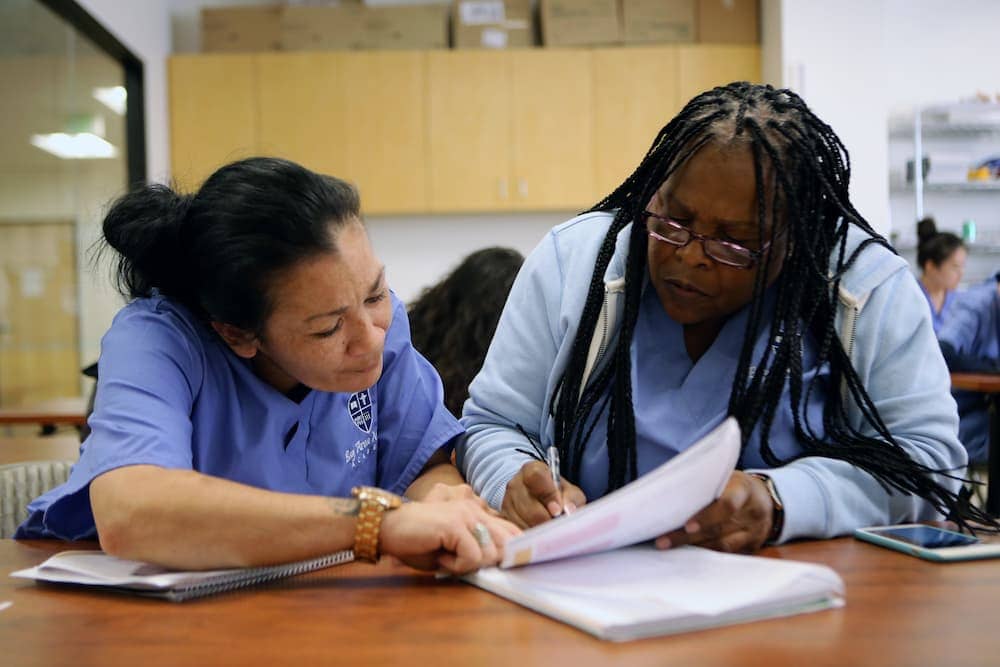 As a medical assistant, your skills can transfer to a wide range of career paths. Whether you are looking to work in a laboratory, focus on patient care, or specialize in the administrative side of medicine, the right MA program prepares you for the future you want. So, what other jobs can a medical assistant apply for? With the right training, the opportunities are virtually endless.
What Other Jobs Can a Medical Assistant Apply for?
What other jobs a medical assistant qualifies for depends largely on the specific training program you complete and the certifications you achieve. A comprehensive program, like Bay Area Medical Academy's 3-in-1 Medical Assistant with Phlebotomy training, maximizes your opportunities by giving you a diverse and in-demand skill set.
The BAMA program prepares you for three certifications:
National Certified Medical Assistant
Certified EKG technician, CET
California Certified Phlebotomy Technician (CPT-1) \ National Certified Phlebotomy Technician
These certifications open up three general paths to new opportunities. On some of these paths, advancement is possible through on-the-job experience alone. Others will require additional training.
An MA program opens up all the positions in the administrative/operational segment through on-the-job training. Many healthcare employers in the Bay Area use a ladder model for their medical assistance career progression. For example, at Stanford Health Care, you can progress through the following levels:
MA Level I: Entry-level positions
MA Level II: Intermediate/developing positions
MA Level III: Medical assistants at this level have reached full proficiency
MA Level IV: These MAs have the advanced skills required to lead a team or specialize in a specific area of medicine.
As an MA progresses through the levels, they gain skills that they can use to take on positions of higher responsibility—and higher pay.
With BAMA's program, students are also prepared to progress through the positions on the lab and imaging side. MAs who go on to specialize in phlebotomy can demand a much higher starting pay than a phlebotomist with no MA experience.
Some career paths, however, require additional education. Licensed Vocational Nurses (LVN) and Registered Nurses (RN), for example, must complete dedicated training programs, though MA clinical hours are typically transferrable.
Standing Out with Specialties
Specializing is one of the best ways for medical assistants to make their careers more personally fulfilling and financially rewarding. With specialties, you can work in something you're truly passionate about while gaining niche skills. Here are some of the common specialties to consider:
Pediatric
Obstetrics
Fertility
Dermatology
Allergy
Gerontology
Cardiology
Oncology
Family medicine
Urology
Internal Medicine
Public He
Just about every medical specialty you can think of needs MAs. There may even be a few you haven't thought of. Take, for example, hair transplant clinics. One of the newest methods of treating male pattern baldness is via platelet-rich plasma injections. This involves taking blood from patients, preparing it, and using it in injections to trigger hair growth. The process is highly specialized, but a confident medical assistant is well-suited for the role. That gives them a rare skill that will help boost their career opportunities.
Specialization comes from on-the-job training you obtain while you work in the position. Someone with a strong MA background will be able to segue their skills into one of these areas and grow from there.
Improve Your MA Career Trajectory
What other jobs can a medical assistant apply for? If you choose the right training program, the possibilities are boundless. Whether you want to take on a leadership role in the administrative side of medicine, work in a laboratory, focus on imaging, or specialize in an area of medicine close to your heart, a comprehensive MA program can help you start your journey.
Bay Area Medical Academy training opens the door to many of the jobs medical assistants can apply for. To learn more, contact an admissions representative.