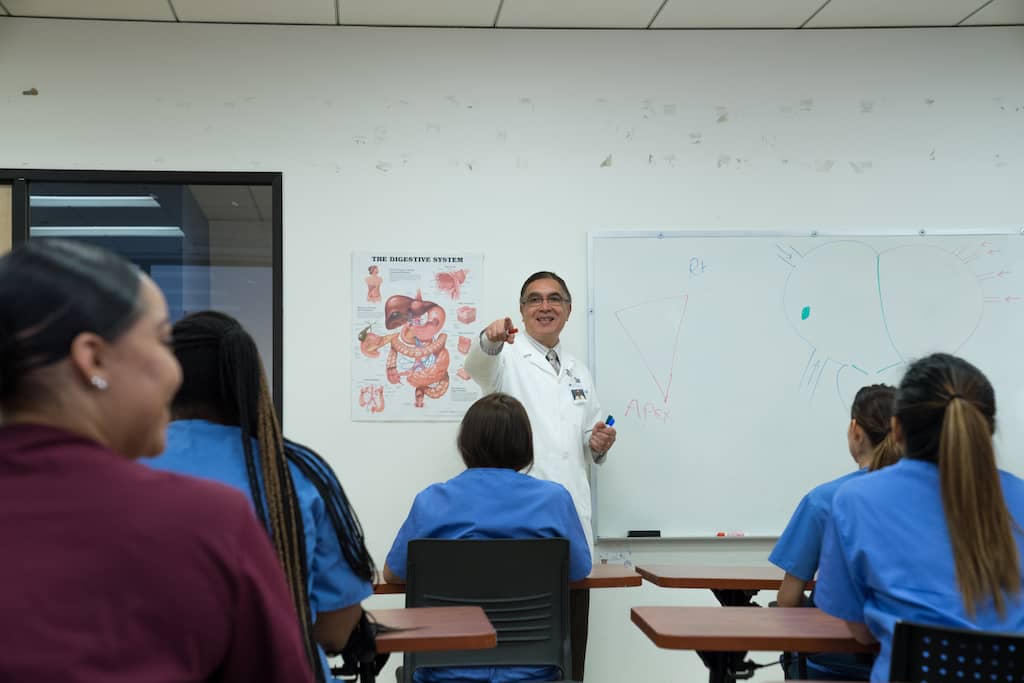 While there's no specific education needed to be a medical assistant (MA) in California from a legal standpoint, you do need to consider employability. Medical offices are busy, and the highest-paying ones typically want MAs who can hit the ground running. In fact, 62% of California's medical employers will require their medical assistants to be certified, so your question should really be, "What education is needed to be a successful medical assistant in California?" For that, you'll need to attend a program approved by the Medical Board of California.
The Education Needed to Be a Certified Medical Assistant in California
While you're not required to be certified to work as a medical assistant in California, you will need credentials to obtain most of the higher-paying jobs. Specifically, healthcare employers will advertise for a "certified medical assistant," meaning you have passed a program approved by the California Medical Board. California has set the following standards for a certified medical assistant program:
10 clock hours of training in administering injections and performing skin tests;
10 hours of training in venipuncture and skin puncture for the purpose of withdrawing blood;
At least 10 of each intramuscular, subcutaneous, and intradermal injections and 10 skin tests, and/or at least 10 venipuncture and 10 skin punctures;
10 hours of training in administering medications by inhalation; and
Training in the above shall include instruction and demonstration in:

pertinent anatomy and physiology appropriate to the procedures;
choice of equipment;
proper technique including sterile technique;
hazards and complications;
patient care following treatment or tests;
emergency procedures; and
California law and regulations for medical assistants
A program that meets these minimum requirements will allow someone to test to receive their Certified Medical Assistant credential in an exam managed by the National Center for Competency Testing or another authorized body.
What to Expect From a Comprehensive MA Program
A comprehensive MA program is one with the reputation and backing to gain the trust of healthcare employers. Because you're not required to be certified in California, many schools might offer options that are only good on paper. Ideally, a strong certified medical assistant program will include three key components:
| Classroom Training | Clinical Training | Externship |
| --- | --- | --- |
| | | |
| Classroom training sets the foundation for being a good medical assistant. Aside from medical knowledge, you also need to know about things like ethics, HIPAA, and laws affecting your future position. In classroom training, you'll also start to learn about the techniques and strategies required to care for patients. | In clinical training, you begin to practice what you learned in the classroom. You might do labs where you role play taking patient histories or vitals. In an MA program with a phlebotomy component, you may also practice venipunctures and skin punctures. | In an externship, you will work directly with an area healthcare employer, putting what you learned in the classroom and in clinical training to use. The externship will also be your opportunity to impress. Many of our students obtain full-time employment directly from their externships through us. These are invaluable, but not all programs offer them. |
Questions to Ask When Choosing an MA Program
A brief search for MA programs in California will result in more than 1 billion results online! To narrow the search results, you will want to close in on the programs that are most likely to land you a good employment opportunity after you graduate. Here are some questions to consider:
How long is the program?
While the length of time it takes to become a medical assistant is an important factor, it shouldn't be the first thing you focus on. Shorter options might accelerate your graduation, but they typically won't offer the comprehensive education you need to succeed. If you have prior experience that could transfer, then a medical assistant refresher course could be the right program for you. This is a consolidated version of a regular course focused on experienced professionals who don't need basic-level classes.
What credentials does it offer?
A certified medical assistant credential is a good starting point for a career, but it's always ideal to have more skills to utilize. Two additional credentials that medical assistants can obtain include the certified phlebotomy technician (CPT-1) and EKG technician (CET) licenses. Having these licenses on top of your medical assistant license immediately expands your employment options. Many programs, BAMA's included, offer additional credentials folded into their medical assistant program.
Are there ways to offset the potential barriers of an externship?
An externship is a vital part of a medical assistant certification program, but it can also be a barrier. Some individuals might not be able to take time off of work to attend the required training. However, some schools will offer funds to help offset the cost of this so you can complete your externship without worry.
What employers do you work with and what career services do you offer?
Your goal in going to school is to work as a medical assistant, and the school you work with should offer you some direct paths to achieve your goal. Some of that can be through direct placement with externships, career counseling services, and access to positions not publicly posted.
How can I pay for school?
A good school will offer a wide range of scholarships, federal student loans, grants, and other funding opportunities to help minimize your out-of-pocket costs when you're seeking a medical assistant certification. The availability of these programs is also a good indicator of reputation because schools have to be accredited and approved by agencies that provide them with funds.
What education is needed to be a medical assistant in California depends on your future employer. Most employers are looking for well-rounded medical assistants who can also take on tasks related to phlebotomy and performing EKGs. A comprehensive program is the best way to guarantee success in your new career.
Bay Area Medical Academy provides the education needed to be a medical assistant in California along with the certifications to ensure your skills are in high demand. To learn more, contact us.