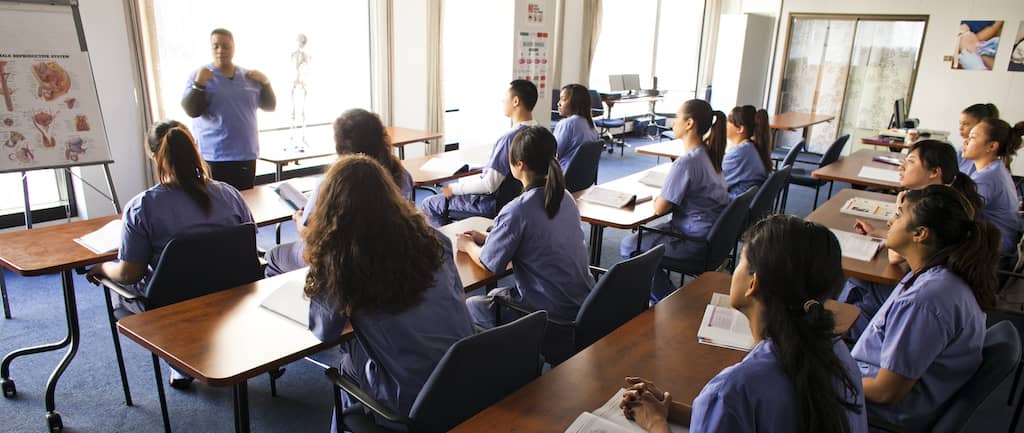 When it comes to acing medical assistant job interview questions, it's really all about experience. Most of your interviewers' questions will be designed to see how you'll perform in a hectic healthcare environment. If you share experiences that show you can handle that, you'll be ahead of the game. To stand out even more, attend a school that offers an externship so you can gain the skills employers are looking for.
7 Medical Assistant Job Interview Questions (and Answers)
Many medical assistant job interview questions are ones that you've heard before. Your prospective employer wants to know about your skills, experience, educational background, and qualifications. At the same time, they will ask specific questions to try to predict how you'll perform in their office. Here are seven medical assistant job interview questions you are likely to run into.
1. Tell us about yourself.
Most interviews start with this as an open-ended question. It's not specifically done with the expectation that you'll share your entire resume. It's about building rapport. They want to open up the conversation and get it to flow. You should consider that in your answer.
How to answer:
Responding with your resume is the first instinct but it can feel impersonal. While it's good to highlight your skills and experience, you should find a way to tie it to your passion for the field. Bring up a personal anecdote or story. Discuss what made you choose to get into medical assisting. If you researched the employer specifically, talk about what drew you to the position.
2. Have you ever had to handle a difficult situation?
This interview staple is particularly important in medical assisting because you'll be working with patients who can be anxious. Your interviewer wants to get a feel for how good you'll be at de-escalating difficult situations and comforting the people in your care.
How to answer:
Ideally, you'll be able to connect this answer to something in a medical environment. It should be something that shows your problem-solving skills. A person who just graduated from a medical assisting course with a phlebotomy license might talk about the first time they had to complete a blood draw on a nervous classmate during clinical training. Someone who went through an externship might talk about how they comforted a child being seen for an injury. If you can tie the answer to how you problem-solved in a medical environment, you'll be able to easily ace this question.
3. What accomplishment are you most proud of?
The accomplishment you're most proud of is a pretty straightforward question that interviewers ask. They want to see what your biggest achievement is from your point of view.
How to answer:
Your proudest accomplishment doesn't necessarily have to be tied to the medical assisting role or the industry itself. You want to show that you are an ambitious person who can take on large projects and succeed. You might talk about passing your medical assisting certification exam, being named class valedictorian, or some other achievement from when you were in school. You may also talk about things that you do in your personal life, like volunteering.
4. What are your strengths and weaknesses?
The interviewer asks this question to understand what areas of the job you perform well in and which ones you'd struggle with. They're looking for an honest answer to better understand your skill set and where you might fit.
How to answer:
Many people are tempted to answer this question with fluff. They talk about their attention to detail or their strong work ethic. They may bring up weaknesses that aren't relevant to the job or ones that are actually strengths.
Try instead to tie your strengths and weaknesses to real-world examples. If you're the person all your friends come to for advice, talk about your empathy and listening skills. If you're a manager running a team of retail workers, discuss your time management skills. When it comes to weaknesses, be honest, but discuss active ways that you are working to overcome those problems.
5. What strategies do you use to manage stress?
A healthcare environment is fast-paced, and emotions are high. The interviewer wants to know that you have resources and strategies in place for dealing with a hectic and sometimes emotionally fraught workplace.
How to answer:
It's important to first acknowledge the fact that stress is a factor in a position like this. Some people might answer this question by saying, "I'm very easygoing," but an interviewer might see that answer as you being unprepared for a high-demand environment. Instead, talk about healthy coping mechanisms like taking walks, breathing exercises, or spending time with family. That shows that you understand the duties of a medical assisting position and you have things in place to handle it.
6. What is your greatest failure, and what did you learn from it?
This question tends to catch people off guard, and that's the purpose of it. It asks you to admit to a failing and reflect on it responsibly. The interviewer wants to know that you are open to criticism and are willing to learn from your mistakes—a very critical skill in a medical environment.
How to answer:
The story about how you lost the big game in Little League decades ago may still make you cringe, but it's not a relevant failure for this question. You want to think of an example that's connected to the position, take responsibility for the mistake, explain what you learned, and emphasize how you won't make the same mistake again.
7. How do you manage competing demands on your time?
Medical assistants must be multitaskers. When you work as one, you'll be juggling multiple priorities on a tight schedule. The interviewer wants to know that you have a plan in place for managing these tasks.
How to answer:
Describing your approach to time management might include talking about creating to-do lists, setting calendar reminders, prioritizing tasks by importance, and setting realistic deadlines. You want to show actionable steps you take to manage time, rather than just say that you're a good time manager.
How BAMA Prepares You for Career Success
Most of the medical assistant job interview questions that you'll run into will be experience-based. Your potential employer will want to know that you can hit the ground running from the first day on the job. You can use your clinical time for a lot of evidence of this, but real-world experience working with patients is better. That's why it's best to choose a school with a comprehensive curriculum and a well-established externship program. At Bay Area Medical Academy (BAMA), we have both. We also have a Career Services department with friendly staff who can help you launch your career. We offer resume and cover letter reviews, mock interview practices, job search and networking advice, and more.
Graduates of BAMA have a lot of success during their medical assistant interviews because our reputation is known by medical providers. They know that we prepare students to take on the duties of a medical assistant with confidence and professionalism. To learn more about our program, contact us.