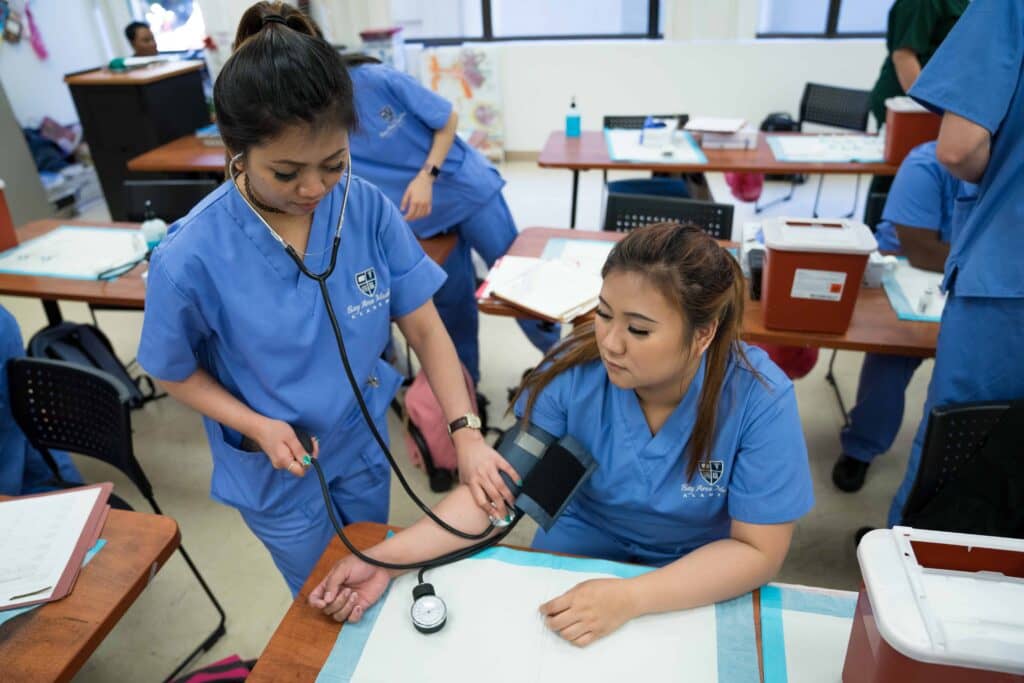 The clinical duties of a medical assistant can differ depending on whether you work at a clinic, laboratory, or a doctor's office. However, there's a common thread between them: patient interaction. When becoming a medical assistant, potential employers are looking for someone who can hit the ground running, work independently with patients, and assist doctors as they provide immediate care. The right program covers all three bases while offering the practical experience you need to succeed at the task.
The Basic Clinical Duties of a Medical Assistant
Before we dive into the duties of a medical assistant, we need to define what the role means first. Some medical assistants won't have any certifications or licensing that will allow them to perform venipunctures, electrocardiograms, or other advanced tasks. Certified medical assistants typically have credentials in phlebotomy, medical assisting, and EKG use.
Medical Assistant Tasks
Phlebotomist Tasks

Patient intake, including taking medical histories and preparing patients for examinations
Assist the physician during examinations
Perform electrocardiograms (EKGs)
Instruct patients on follow-ups, medications, and activity restrictions
Perform basic wound care and dressing changes (not including stitches)
Send prescription information from the doctor to the pharmacy
Clean and sterilize equipment

Perform venipunctures and skin punctures to collect blood samples from patients
Select appropriate equipment and prepare patients for blood draws
Prepare samples for transport and analysis and accurately label specimens
Sanitize, calibrate, and maintain laboratory equipment as needed
Maintain records of blood draws to include patient names, volume, and findings
Of course, day-to-day activities and responsibilities will change depending on the nature of the work. Laboratory work will likely lean more toward phlebotomy tasks while the bulk of medical office work may include medical assistant tasks. Clinical work is often a combination of the two.
A Day in the Life of a Medical Assistant
The best example of a day in the life of a medical assistant can be pulled directly from the experiences of our very own students. On the first day of their externship placement, they'll go to a medical office, laboratory, or clinic and be given a basic orientation. Over the next few shifts, they will shadow an experienced medical assistant as they go about their day. When they're ready, they will then be assigned their own duties. They'll begin interacting with patients, likely under the initial supervision of another medical assistant, and eventually be expected to carry out their daily duties autonomously.
In a medical office, a medical assistant will start their day by going through upcoming appointments and pulling patient charts to prepare. When the patient arrives, the medical assistant will take his or her medical history, go over issues that the patient wants to talk about, and take basic vital signs to present to the physician. When it's time for the examination, they will assist the physician and help guide the patient on the treatment plan.
It's up to the medical assistant to create flow during the entire process. They'll need to make sure that patients are moved seamlessly through every stage of their medical appointments while providing all the information physicians need to set the right course of treatment.
Of course, the experience of someone working in a laboratory or clinic could be drastically different. They may be assigned only one small part of a medical assistant's task; for example, taking patient histories and moving those notes onto the next medical assistant further down the process. It all depends on the workplace and what works to ensure that the best possible health care is provided. The medical assistant is a key part of that process.
Preparing for Medical Assistant Clinical Duties with BAMA
The clinical duties of a medical assistant can't be taught in a classroom alone. And most medical providers expect their medical assistants to be able to start interacting with patients without supervision almost immediately. An extensive externship will give you all the clinical skills you need to start off on the right foot.
In Bay Area Medical Academy's 3-in-1 Medical Assisting with Phlebotomy program, our students learn the skills necessary to take on all the duties of a certified medical assistant. This program allows participants to complete both medical assistant with EKG and phlebotomist tasks.
Bay Area Medical Academy helps students become experts in carrying out the essential clinical duties of a medical assistant through a 9-month program that includes 200 hours of hands-on, real-world training. Reach out to an admissions representative for more information.