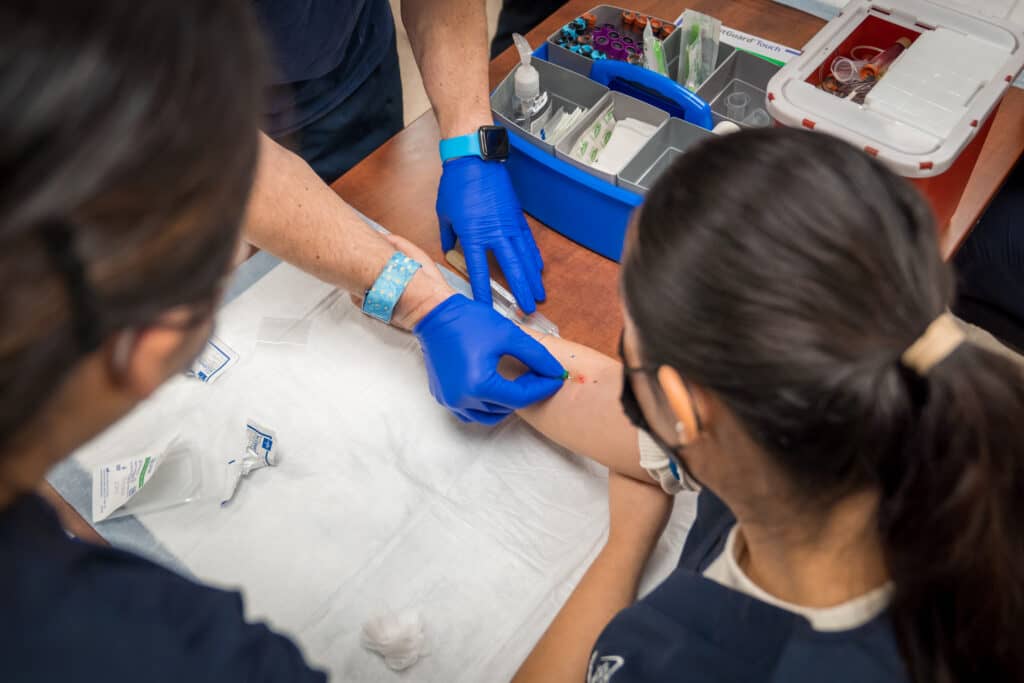 Certification is a critical part of career advancement for medical assistants. While it is possible to be a medical assistant (MA) without certification, the best employers typically require it to handle higher responsibility roles.
If you want to maximize your career advancement opportunities as a medical assistant, there are three critical certifications that you need—a medical assistant certification, a CPT-1, and EKG certification . These certifications have the added benefit of opening up additional career paths within healthcare, including those listed in the table below.
Options for Career Advancement for Medical Assistants

Career
Job Description
Specialized Medical Assistant
This individual works in a specialized field like pediatrics, oncology, orthopedics, or some other focused care setting.
Licensed Vocational Nurse (LVN) or Registered Nurse (RN)
LVNs and RNs direct patient care, assess patient conditions, administer medications, perform medical procedures, and collaborate with healthcare teams.
Medical Office Manage
This person is in charge of the operations of a medical office or clinic.
Medical Assistant Instructor
For those who want to take and educational path, the medical assistant instructor position allows them to train other MAs.
Clinical Research Coordinator
This individual coordinates and oversees clinical research studies to include recruiting participants, managing data and ensuring regulatory compliance.
Respiratory Therapist
A respiratory therapist assesses and treats patients with breathing disorders, like asthma, chronic obstructive pulmonary disease (COPD), or respiratory failure.
Registered Health Information Technician
This administrative position involves managing and maintaining patient health records and electronic health information systems.
3 Key Certifications for Career Advancement for Medical Assistants
The three crucial certifications you need for career advancement as a medical assistant will prepare you for every task that a medical assistant might encounter.
Certified Medical Assistant
In California, you don't have to be certified to be a medical assistant; however, that is just from a regulatory standpoint and doesn't speak to what area employers expect from individuals who apply for a medical assistant position. In fact, approximately 62% of employers require a certification when hiring medical assistants. There are several recognized paths for obtaining this certification. The National Certified Medical Assistant credential is one of the most popular because it is reciprocal with other states. This one, or another recognized by California's medical board, will prepare you for success.
Obtaining Your Medical Assistant Certification
To obtain your MA certification, there are three broad requirements:
Attend an approved training program: The California Medical Board requires accredited medical assistant programs to meet certain standards for training, clinical instruction, and classroom hours.
Complete hands-on training: The board also requires hands-on training in various blood drawing and injection techniques.
Pass an exam: The exam covers various topics, including medical terminology, anatomy and physiology, medical law and ethics, and clinical and administrative procedures.
By becoming a certified medical assistant, you'll unlock a wide range of career opportunities. You can work in hospitals, clinics, physician offices, and specialty practices. Your responsibilities may include recording patient medical histories, taking vital signs, preparing patients for examinations, administering medications, and assisting with minor surgical procedures. You can also pursue administrative roles, such as scheduling appointments, managing patient records, and handling billing.
Phlebotomy Technician (CPT-1)
Phlebotomy is another critical skill in many healthcare settings. However, you can't be a phlebotomist with a medical assistant certificate alone. In California, you need a certified phlebotomy technician credential (CPT-1). The CPT-1 allows you to draw blood from patients using skin puncture and venipuncture techniques.
Obtaining Your CPT-1
CPT-1 requirements are similar to those of medical assistants. You will have to attend an approved training program, complete a set amount of blood draws, and pass an exam. The CPT-1 is also a standalone credential, meaning you can choose to work specifically in this field.
While the CPT-1 isn't as comprehensive as a medical assistant credential, it does open you up to a set of additional career opportunities.
EKG Technician
The Certified EKG Technician (CET) is one of the certification options available for individuals pursuing a career as an EKG tech. However, it's important to note that the National Center for Competency Testing (NCCT) also offers a certification for EKG technicians. Both certifications offer valuable credentials and career opportunities within the field.
Obtaining Your EKG Technician Certification
To obtain EKG technician certification, you must complete a certification program and successfully pass the corresponding exam. Once certified, you can pursue employment in cardiology departments, hospitals, clinics, and other healthcare settings.
These three certifications are critical parts of medical assistant career advancement that allow you to take on more responsibilities in a healthcare setting, which generally leads to higher pay. Of course, it's not easy to obtain three certifications separately, as it can be time-consuming and expensive. It's better to choose a program that allows you to obtain all three critical medical assistant certifications at the same time.
Choosing the Right MA Program to Maximize Your Credentials
Career advancement for a medical assistant depends on the certifications that are pursued—it's impossible to expand into newer, higher-responsibility roles if you don't have the credentials required to take them on. By obtaining your CPT-1, EKG certification , and medical assistant certification, you will open up a wide range of opportunities in healthcare.
Bay Area Medical Academy can help you maximize your career advancement opportunities as a medical assistant with our three-in-one program that gives you all of the above certifications. To learn more, reach out to an admissions representative