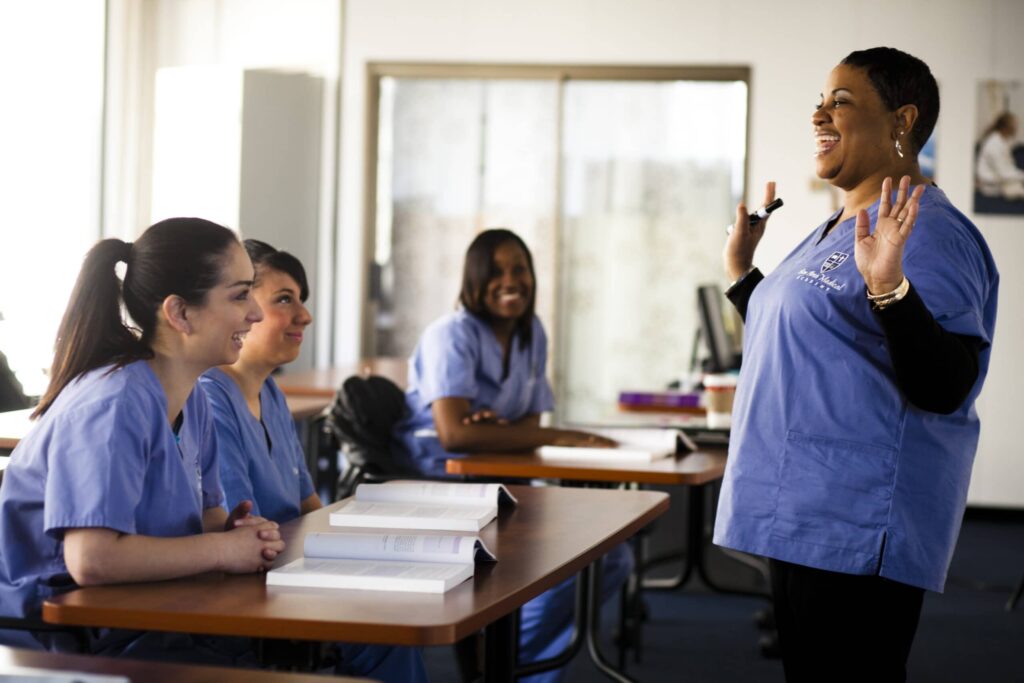 The cost of a medical assistant program in the Bay Area can range from free to around $18,244; however, these figures are both misleading. Depending on the program, a free option may not provide you with the skills you need to actually obtain employment in your chosen career. More expensive options may put you off by their price tag but tend to qualify for more aid. A longer, higher-quality program may actually wind up costing nothing at all or can be offset with low-interest loans.
When looking at the cost of a medical assistant program in California, you really need to think about the return on your investment. Quality will determine how much you pay out-of-pocket and whether your education will meet the stringent standards of healthcare providers.
How Accreditation Affects Medical Assistant Program Costs
Many people searching for medical assistant program costs are intrigued by programs that are labeled "free." However, it's important to be careful when considering these types of programs, as many of the schools that offer these programs are not accredited by a reputable body guaranteeing the quality of that school. As there's no guarantee of quality, employers won't trust the school, and they won't hire students from it.
However, some accredited schools, such as Bay Area Medical Academy (BAMA), are able to offer medical assistant programs at little or no cost out-of-pocket through funding opportunities such as loans and grants. Without that accreditation, schools are unable to participate in these funding opportunities.
When students are searching for reputable medical assistant programs, it's important to look for accreditation logos on the school's website and marketing materials—if the school is accredited, there will be proof that it has been acknowledged as a high-quality educational institution.
Below, we detail the different tiers of accreditation that high-quality medical assistant programs will have.
| | |
| --- | --- |
| The Bureau for Private Postsecondary Education (BPPE) | This is the first tier of quality and the base standard that any student will need to protect themselves from fly-by-night operations. The BPPE approves and registers private postsecondary institutions that meet state standards for academic quality, educational program content, and ethical business practices. They are responsible for ensuring that schools provide quality education and operate ethically and transparently. |
| California's Eligible Training Provider List (ETPL) | Programs approved under this list have met annual performance numbers to make them eligible for inclusion in funding solutions like the Workforce Innovation and Opportunity Act. Performance numbers are based on graduates obtaining employment, overall reputation, and effectiveness. |
| U.S. Department of Education Accreditation | At this tier, the institution meets a high standard of educational quality, as measured in student success, completions, and job placements as well as student and employer feedback that has to be regularly measured and reported to the accreditors. Free Application for Federal Student Aid (FAFSA) is only available at accredited programs approved by the U.S. Department of Education. |
| Grant-Eligible | Grants are awards from organizations to help offset education costs or eliminate them entirely. One of the most commonly referenced is the federal Pell Grant. This is awarded based on need and is money paid towards a student's education that does not have to be repaid. These are usually included in financial aid packages of reputable schools when available. |
The more reputable and regulated the school is, the better the quality of the program. The best will meet all four of the above tiers, providing quality education and the funds to offset the costs entirely. Essentially, the student pays the same amount as they would at a "free" course, but they receive a certification they can actually use later.
The Costs of a Medical Assistant Program in California
Costs for medical assistant programs in the Bay Area vary from as little as free for an 11-week program to $18,244. That incredibly broad range occurs because of how different these programs are from school to school. For example, some schools may provide medical assistant training that doesn't lead to a national certification. They may offer a school certificate, but that will not be enough.
That is because you don't have to be certified to be a medical assistant in California, at least not under state law. However, most of the best employers will require some type of certification to prove your experience and knowledge. To obtain this, you'll want to attend an accredited school.
The following are accredited schools in the Bay Area:
Length
Cost
Bay Area Medical Academy
9 months
$16,769.00 (though students may qualify for free training—in fact, since January 1, 2023, we have additional funds, and only approximately 9% of incoming students have had to rely on loans or pay out-of-pocket; every other student was able to obtain grants that covered their tuition in full)
City College of San Francisco
1 year (3 semesters)
$2,691 for California residents
$20,943 for non-residents
Gurnick Academy of Medical Arts
8 months
$14,480
Carrington College
36 weeks
$18,244
Unitek College
9 months
$14,377
American College of Healthcare and Technology
9 months
$15,645
San Francisco State University
Up to 9 months
$2,599
At Bay Area Medical Academy (BAMA), our accredited medical assistant training program exceeds state accreditation requirements to ensure our students graduate with confidence and has an excellent reputation with Bay Area employers.
Funding to Help With Medical Assistant Training at Bay Area Medical Academy
BAMA works with our students to fund their education as thoroughly as possible. Our admissions representatives look for eligibility under federal student aid and federal Pell grants when creating a package for incoming students.
In addition, we also offer a free Medical Assistant Training Program using multiple funding sources from a combination of FAFSA, the Workforce Innovation and Opportunity Act, and our scholarship programs for those who qualify. Individuals who live in the Bay Area may be eligible for these funding sources, which offer coverage for tuition expenses and certification/licensing fees.
Our scholarship offerings are also pretty extensive. To help drive diversity in the professional medical industry, we offer multiple programs for our students of African American, Latinx, Asian American, and Indigenous American backgrounds, residing in the San Francisco Bay Area. We work with several nonprofit agencies to help students from disenfranchised backgrounds attain the education they need to improve their lives.
You shouldn't let concern over the cost of a medical assistant program stop you from getting an education, as it may be more affordable than you think. The credentials you get with a well-qualified program will be worth it in terms of future earning potential. Meanwhile, there is a wide range of funding options to help you on your way.
Bay Area Medical Academy has private, state, and federal level accreditations that allow us to offer our students extensive financial aid options to offset or eliminate the cost of their medical assistant program. To learn more, contact an admissions representative.