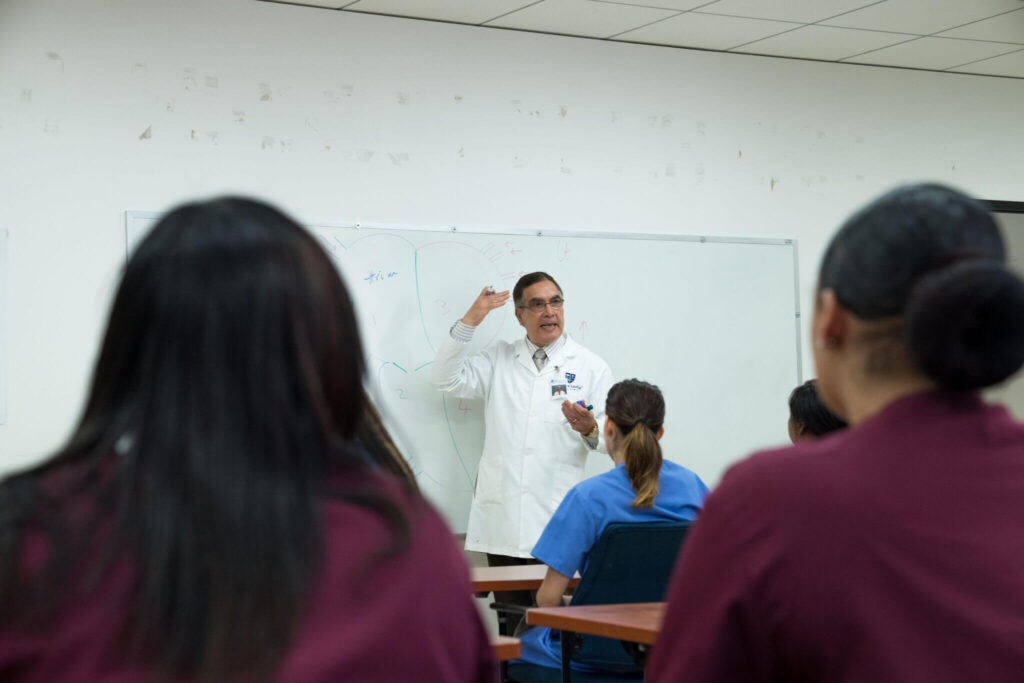 Accreditation is an important but often overlooked part of finding a good medical assistant program. Accreditation means that the school has received the "stamp of approval" from a regulatory body in charge of measuring education quality. This is critical to you for two reasons—employers and licensing bodies will typically require education to come from an accredited organization, and accreditation opens up access to funding that could offset the cost of your education or cover it in full. In the long run, accredited medical assistant programs are more affordable and better for your future employment prospects.
Why Accreditation Matters—and What to Look For
Many people start their search for a medical assistant program by looking at prices. They may be excited to see there are even some free options. Unfortunately, most people who are drawn to those don't realize that the training may not qualify them to obtain their certified medical assistant credential, which is the credential most area employers will require.
Accreditation is also what qualifies schools to offer the most financial aid to students. In its course brochure, the school may list the program cost in the tens of thousands. However, through grants, workforce programs, financial aid, and other solutions, the student ends up paying very little out-of-pocket for a far better education.
There are hundreds of different accrediting bodies in the United States education system. For accredited medical assistant programs in California, you mainly need to focus on four.
Critical Medical Assistant Program Accreditations in California
Accreditation is granted when a school meets a universal standard in some way. That may be through guaranteeing financial protection for students, displaying high graduation and job placement rates, or having a curriculum that's approved by experts in the field. There are four types of accreditation that you will see in many California medical assistant programs.
| | |
| --- | --- |
| The Bureau for Private Postsecondary Education (BPPE) | BPPE is often seen as a baseline requirement of educational quality, though not all schools hold it. This body is responsible for ensuring that schools operate in compliance with state law. The school undergoes audits, on-site evaluations, and licensing requirements to meet this standard. |
| California's Eligible Training Provider List (ETPL) | Inclusion on the ETPL directory means that programs are authorized to receive funding from workforce development programs. Schools must meet specific annual performance numbers surrounding job placement and curriculum quality for inclusion. |
| U.S. Department of Education Accreditation | This accreditation is required for students to be eligible for federal student aid like subsidized and unsubsidized loans. The institution itself, as well as its programs, are reviewed by authorized agencies to determine if they meet quality standards. Reports relating to graduation rates, numbers of students receiving aid, and job placement must also be submitted. |
| Grant-Eligible | Grants aren't an accreditation, per se. Every grant a school has is one that it has individually applied for and met the ongoing standards to offer. Very often, schools that offer financial aid will include grants, though not as many are available as they don't need to be repaid. |
Accredited Medical Assistant Programs to Consider
California has an extensive list of medical assistant programs available, but not all of them are accredited at the same level. Here are some of the top options as well as what accreditations they hold.
| | BBPE | ETPL | US Ed. Dept | Grants |
| --- | --- | --- | --- | --- |
| Bay Area Medical Academy | ✔ | ✔ | ✔ | ✔ |
| Gurnick Academy of Medical Arts | ✔ | ✔ | ✔ | ✔ |
| Carrington College | ✔ | | ✔ | ✔ |
| Unitek College | ✔ | | ✔ | ✔ |
| American College of Healthcare and Technology | | ✔ | ✔ | ✔ |
| College of Marin | | ✔ | ✔ | ✔ |
| San Francisco State University | | | ✔ | ✔ |
| City College of San Francisco | | ✔ | ✔ | ✔ |
These are just a few of the accredited medical assistant programs that you can find in the Bay Area. There are also other accreditations that schools may hold independently based on their industry, region, and business relationships. When you are seeking out an educational opportunity that will increase your employability and allow you access to the most funds for your education, investigating accreditation is the best way to go.
Bay Area Medical Academy offers an accredited medical assistant program that also allows you to obtain a nationally approved phlebotomy credential. Our reputation is known among the bodies that recognize school excellence. To learn more about our programs, contact an admissions representative.