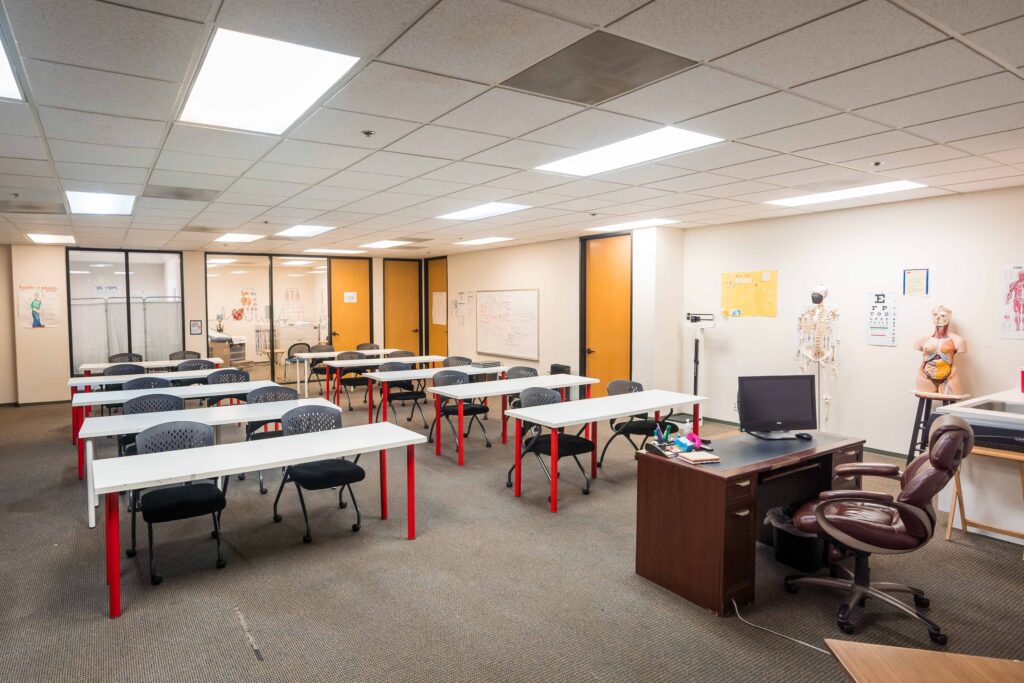 The best fast-track medical assistant programs to launch your career are not the ones that promise an overnight certification or online-only classes. Programs like that won't allow you to take a national certification exam or obtain your Certified Medical Assistant (CMA) credential. Employers who hire CMAs will usually require a national medical assistant certification. You only get those from schools that are vetted, accredited, and respected.
Four Markers of Program Quality
The best medical assistant training programs have met certain excellence standards established by trusted authorities in the industry. As you're vetting programs, there are four things you should look for to determine if it is reputable and respected.
BPPE: The Bureau for Private Postsecondary Education is a body that ensures schools comply with state law regarding education standards. Schools must undergo regular audits, evaluations, and licensing requirements. This is a baseline standard you should seek out in an MA program.
ETPL: To be on California's Eligible Training Provider List, a program must meet job placement and curriculum standards set by the state. This makes it eligible for funding under specific workforce development initiatives.
Ed. Dept.: The US Department of Education keeps a listing of programs that are qualified to receive federal financial aid and loans. These programs must meet incredibly high standards and report on graduation rates and job placements.
Grant-Eligible: Grants are gifts from nonprofits or other organizations to support workforce development in a specific field or benefit a particular group of people. These all have individual requirements that typically exceed those the Department of Education sets.
No fast-track medical assistant program is worth the time if it doesn't have at least one of the above credentials. The programs that make you employable are the ones with a strong reputation, and those four credentials are clear markers of quality.
7 Fast-Track Medical Assistant Programs
You can whittle down your list of possible programs using the above four markers of quality. To save you some time, we've researched the best fast-track medical assistant programs based on available online information.
School
Length
Curriculum
Credentials
Bay Area Medical Academy
9 months

BAMA offers a 3-in-1 medical assistant curriculum that prepares students to obtain three highly valuable certifications: the National Certified Medical Assistant, Certified EKG Technician, and National Certified Phlebotomy Technician.

BPPE
ETPL
US Ed. Dept
Grants

Carrington College
9 months
Carrington College is a regional institution with a presence in seven states. It offers a medical assistant certificate program that prepares students for the Certified Clinical Medical Assistant credential.
City College of San Francisco
1 year
CCSF's medical assistant certificate program prepares students to obtain their certified medical assistant credential.
College of Marin
3 terms
The College of Marin serves Marin County, California, and offers various programs, including medical assistant certificates and associate degree options.
Gurnick Academy of Medical Arts
8 months
This medical assistant program prepares students to take the national CCMA exam.

BPPE
ETPL
US Ed. Dept
Grants

San Francisco State University
Up to 9 months
San Francisco State is another institution with a wide range of offerings, including a certificate program that prepares you for the Certified Clinical Medical Assistant exam.
Unitek College
9 months
This hybrid medical assistant program offers some coursework online and prepares students for several different medical assistant exam tracks, including the National Certified Medical Assistant credential.
What to Avoid in MA Programs
The above seven schools are great options for becoming a certified medical assistant, though there are hundreds more. You can use the accreditations to guide you to the best options, but there are a few things that you'll want to avoid.
Uncertain externships: Clinical hours are critical to obtaining your certification. They're also vital for getting the work experience needed for long-term employment. If a school can't provide an externship, you won't be able to finish your program! Make sure it guarantees externship placement before you sign on.
Inadequate curriculum: Approved medical assistant certification programs in California need at least 10 hours of training each for administering injections and performing skin tests, 10 hours for venipuncture and skin puncture for blood withdrawal, and an additional 10 hours for administering medications by inhalation. Those are the bare minimum standards, and they typically aren't enough to ensure you become a confident medical assistant.
Lack of student support: The schools you choose should serve as a supportive community you can rely on throughout your academic journey and beyond. Look for institutions offering robust job assistance, well-structured externship programs, experienced instructors, and dedicated academic advisors to ensure a well-rounded educational experience.
Negative reputation: Reputation holds a lot of power within the medical assistant community. Prospective employers scrutinize the programs you attend closely. If your school doesn't meet high standards, they might favor candidates from more reputable institutions.
The best fast-track medical assistant programs aren't the ones that promise overnight training. Instead, they offer a practical, approachable curriculum that will accelerate your entry into the healthcare field without rushing it.
Bay Area Medical Academy offers a fast-track medical assistant program that will help you launch your career. To learn more, contact an admissions representative.e.