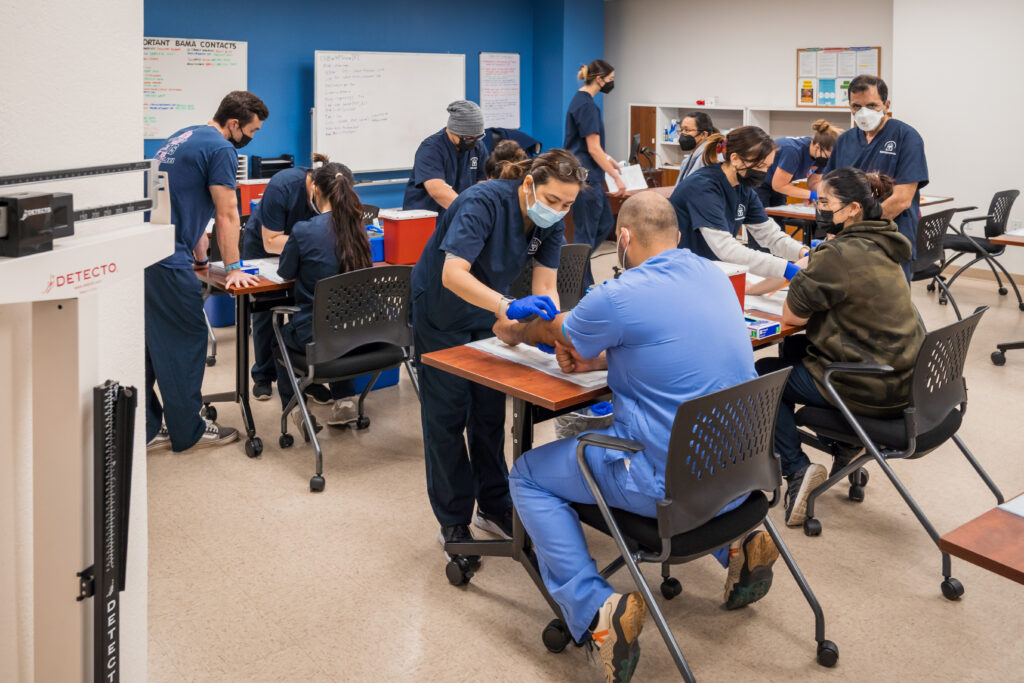 Healthcare is a massive and diverse employment market. There are hundreds of entry-level healthcare training programs available that will promise you a foot in the door. Unfortunately, many of those operations don't provide any certifications, leaving you with no skills or stuck in a low-paying job with little hope of advancement. To choose the right path, consider the healthcare training programs that prepare you for in-demand positions like medical assisting, phlebotomy, and EKG technician.
Three Entry-Level Healthcare Training Programs
While many entry-level healthcare positions are available, not all are exceptionally high-paying. The jobs with no training requirements may pay a little bit more than minimum wage, with long hours and high stress. If you want to enter healthcare for the first time, you're better off choosing an in-demand position that will maximize your salary.
You could consider three certifications: Medical assistant, phlebotomist, and EKG technician. They boast relatively high starting salaries, short training, and diverse and exciting job duties.
Medical Assistant
(Est salary: $46K – $64K)
Phlebotomist
(Est salary: $39K – $59K )
EKG Tech
(Est salary: $46K – $61K)
Description:

This position is found in hospitals, laboratories, or medical provider's offices. Some of the duties of a medical assistant include:

Communicate with patients
Record medical history
Collect lab specimens
Explain treatments
Assist during procedures and exams

A phlebotomist's duties will vary based on whether their position is in a lab or patient-facing. A few everyday tasks include

Draw blood samples
Catalog specimens
Ensure equipment cleanliness
Educate patients on procedures

An EKG tech monitors a patient's heart using an electrocardiogram to help diagnose conditions. Common duties include:

Perform EKG tests
Monitor heart activity
Identify abnormalities in EKG readings
Record and document results accurately

Requirements:

There is no state certification requirement, though most employers will require you to attend a program that meets California Medical Board standards and pass a national certification exam.

A CPT-1, or Certified Phlebotomy Technician 1 license is required to draw blood from patients in California.

Like medical assisting, the state does not require EKG certification but most employers and their malpractice insurance will need it.
The Medical Assistant Career Track
To be a certified medical assistant in California, you must attend a program approved by the state's Medical Board. You will also have to pass a certification exam from an approved organization. Accredited, reputable programs typically require nine months to a year of training.
There are three main career pathways for medical assistants: Clinical, Administrative, and Specialized.
Clinical medical assistants: This path is great for people who like working directly with patients, as they perform tasks like taking medical histories, preparing patients for examinations, and assisting with procedures.
Administrative medical assistants: If you're detail-oriented, an administrative medical assistant position where you schedule appointments and manage records may be right for you.
Specialized medical assistants: Many medical assistants work in specific healthcare specialties like oncology or cardiology.
As you gain experience in your medical assistant position, you can advance to higher-up positions. You may even wind up managing a medical team or training the next generation of healthcare workers.
Choosing a Career in Phlebotomy
If you want to work in phlebotomy, you'll need a Certified Phlebotomy Technician 1 license. Of course, it's not as easy as just applying. You'll need to attend an approved phlebotomy training program and take a certification exam from one of six agencies:
American Certification Agency (ACA)
American Medical Certification Association (AMCA)
American Medical Technologists (AMT)
American Society of Clinical Pathology (ASCP)
National Center for Competency Training / Multi-Skilled Medical Certification Institute (NCCT/MMCI)
National Healthcareer Association (NHA)
While many programs promise to accelerate training, the most reputable are usually around three to six months long. Phlebotomy career pathways typically break down to laboratory, patient-focused and supervisor roles:
Laboratory. In laboratory positions, you may see many patients in a day but you will not spend a lot of time working with them.
Patient-focused: These phlebotomists will work as part of a healthcare team, like in a doctor's office or specialty practice.
Supervisory: These roles encompass managing and overseeing phlebotomy teams or departments in hospitals, labs and medical practices.
Entry-level positions in each category lay the foundation for your career, but advancement is possible. For example, starting as a mobile phlebotomist can lead to roles like a lab director or medical lab scientist. Requirements and salaries vary, but obtaining a CPT-1 from a reputable school can open doors to a very rewarding career.
Supplementing Skills and Working as an EKG Tech
There is no formal certification process to be an EKG tech in California. However, it is very likely a requirement for any employer hiring techs, as their malpractice insurance will almost certainly mandate it. Otherwise, the risk that an EKG tech could perform tests incorrectly, leading to inaccurate diagnoses, is far too high.
Most healthcare providers hiring for an EKG tech will require that the individual graduate from an accredited healthcare training school. EKG isn't usually a standalone career, though it can be. Typically, our students obtain it as a supplemental skill to take on more responsibilities and earn higher pay.
The ones who want to increase their potential the most through healthcare training programs take our three-in-one medical assisting with phlebotomy program. With it, they earn their certified medical assistant, phlebotomy, and EKG credentials, opening doors to a variety of exciting career opportunities in the healthcare field. Students also have the option of attending BAMA Institute's standalone EKG technician and phlebotomy courses if they'd like to focus on specific credentials.
Bay Area Medical Academy offers the top healthcare training programs trusted by Bay Area employers. To learn more, reach out to an admissions representative. .